£7m extreme engineering centre in final stages of development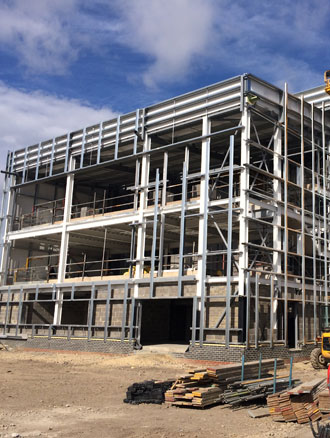 Work is now almost complete on Newcastle University's new national centre for subsea and offshore engineering.
The Neptune National Centre for Subsea and Offshore Engineering, unveiled by then Business Secretary Vince Cable as a key part of the Government's Oil and Gas Strategy, will be the first of its kind in the UK, bringing together industry and academia to create a world-class engineering research facility.

Developing technologies that can withstand one of the world's harshest environments, the new centre will be at the forefront of our quest to harness the ocean's potential as a source of food, energy and medicine.

Building on the region's maritime heritage and Newcastle University's world-leading expertise in marine engineering, the Neptune Centre is being developed on the north bank of the River Tyne on the Neptune Energy Park, part of Shepherd Offshore. It will be a centrepiece for the revival of this part of Tyneside, bringing with it jobs and investment.
With building work now in its final stages, it is expected the first of the equipment for the new research centre will arrive in January.
The project is part-funded through the Higher Education Funding Council for England (HEFCE) from the Catalyst Fund and matched with funding from Newcastle University and the private sector. Also supported by Newcastle City Council, it includes plans for a unique Hyperbaric Chamber and Environmental Test facilities - capable of testing technologies and materials at temperatures and pressures equivalent to those found at the very deepest ocean depths.

Project lead Professor Nick Wright, Pro-Vice-Chancellor for Research and Innovation at Newcastle University, said: "The Neptune Centre will create a unique facility that will significantly enhance research capacity, not just at Newcastle University but in the UK as a whole – providing a focus for the development of both new technology and academic-industry relationships that underpin future growth.

"Newcastle University has a long tradition of applied engineering research focussed on the marine sector – reflecting the history and tradition of both the University and the NE region. This new national centre will act as a place for industry and academia to interact, providing crucial infrastructure for emerging research opportunities. It will also provide a unique training ground for highly skilled graduates, addressing key skill shortages currently faced by UK industry."
published on: 24 September 2015