University spin-out secures six figure investment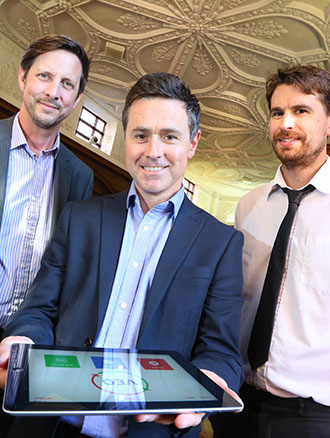 The first ever spin-out company from the University's Faculty of Humanities and Social Sciences has secured a major investment to enable it to grow.
Video Enhanced Observation Limited (VEO), set up by teacher trainers Paul Miller and Jon Haines, has received £130,000 from an investment syndicate led by regional venture capital firm Northstar Ventures.
VEO has developed an iPad application with two key elements: a mobile, real time, video tagging application and a secure online database and content management system. The aim of the app is to improve in-school continuous professional development (CPD) observation processes beyond the current surveillance-style and paper-based systems. It enables users to build peer group networks around shared video-clips, in order to promote good practice and professional improvement.
The investment from Northstar Ventures will be used to develop the online portal and make it accessible to a greater variety of business sectors.
Paul Miller said, "Securing investment from Northstar Ventures has given us a fantastic opportunity to drive forward our innovative platform.
"By intuitively combining video and data, VEO transforms CPD and business processes, creating enormous value for a wide range of commercial, clinical and educational organisations.
"We've had worldwide interest across several sectors and we look forward to helping customers maximise their operational efficiency and quality."
VEO is also collaborating with staff from SOLE Central, a global hub for research into self-organised learning environments (SOLEs), based in the University's School of Education, Communication and Language Sciences. They aim to develop a SOLE version of the VEO app which will enable teachers to record best practice within a SOLE session and capture the progress of students over time, especially with reference to the development of their critical thinking, problem solving and presentation skills.
Professor Daniel Zizzo, Dean of Research and Innovation for the Faculty of Humanities and Social Sciences, added: "As the first spin-out company from the Faculty of Humanities and Social Sciences, we are very excited by the imaginative potential of VEO's software in helping learning and training in schools, companies and other organisations."
Dr Stephen Price, Investment Manager at Northstar Ventures, said: "VEO has developed an innovative product that can dramatically impact on the quality of training and performance, providing verifiable data, audit trail and sharing of best practice.
"The product has a wide variety of potential applications across many and diverse sectors including education where the founding team has particular expertise and insight."
The investment has been made from the Finance for Business North East Proof of Concept Fund. This is backed by the European Regional Development Fund, the Regional Growth Fund and the European Investment Bank.
Pictured from L-R: Jon Haines, Northstar Ventures Investment Manager Stephen Price, and Paul Miller. Image credit: Crest Photography
published on: 15 September 2015