Live lunchtime music moves to new city centre venue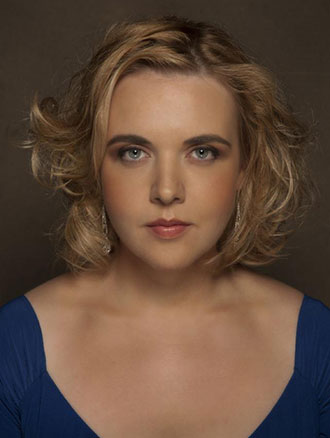 The popular series of free lunchtime concerts at Newcastle University moves to a new venue for the autumn.
Due to the refurbishment of the King's Hall on the University campus, Lunchtime Concerts will take place at Brunswick Methodist Church, just behind Fenwick in the city centre. The work also means that performances by current Newcastle University music students are moving to a new venue and will now take place on King's Walk, in the University's Culture Lab.
The latest programme of concerts starts on Thursday 8 October, when the Gallini Piano Trio will perform works by Haydn and Mendelssohn. Other highlights of the autumn programme include soprano Sarah-Jane Brandon (pictured) accompanied by pianist James Baillieu, performing Brahms, Schubert and Richard Strauss on Thursday 22 October.
The Dave Milligan Trio will bring their own brand of energetic and uplifting jazz improvisation on Thursday 5 November, while Newcastle University Folk Degree graduate Tom Oakes will perform multi-genre compositions alongside former Scottish Instrumentalist of the Year, Innes Watson, on 3 December.
Professor Eric Cross, Dean of Cultural Affairs at Newcastle University, said: "Although in a new, temporary home, the autumn programme of free lunchtime concerts has the same high calibre of performances across diverse genres which has helped establish them as a solid fixture in the University's cultural calendar.
"And weekly performances by Newcastle University music students continue to form part of the programme, so don't miss the opportunity to hear these talented young musicians."
Lunchtime Concerts in Brunswick Methodist Church take place at 1.10pm, student performances take place at 4.30pm in Culture Lab, King's Walk, Newcastle University. All are free and open to the general public. For more information, visit www.ncl.ac.uk/events/kings-hall
published on: 2 October 2015