Newcastle academics collaborate to produce new choral composition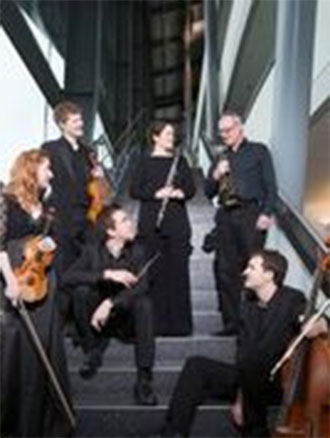 A brand new piece of classical choral music, composed and written by two leading international artists based at Newcastle University, will receive its world premiere in Durham next week.
Agustín Fernández, Professor of Composition, and award-winning poet Sean O'Brien, Professor of Creative Writing, have collaborated to produce Notes from Underground, a song-cycle inspired by the work of WH Auden.
The new composition was commissioned by New Writing North for the Durham Book Festival 2015, a Durham County Council festival. It will be performed in public for the first time on 15 October by performers from the Royal Northern Sinfonia (pictured), baritone soloist Benjamin Appl and the choir Voices of Hope.
The six-part piece harks back to the landscape and physicality of the North Pennines and the mines which Auden was fascinated by. From the opening song, which has a sombre mood to reflect the start of the journey underground, the work explores the themes of descent and 'Northness' – in terms of community and experience but also the landscape and place of the North Pennines.
As Sean O'Brien explains: "I've always been intrigued by some lines from Auden's early poem 'The Watershed' about a dead man being transported through the mine workings under a mountain because wintry weather had closed the overland route. When the proposal for the current project arrived, this seemed to be a way in, as it were. A song-cycle suggested itself as a way of framing parts of this narrative – the key moments of the character's descent into the underworld and his visionary experiences there."
Agustín comments: "We have revisited the potential of earth, landscape and place as sources of ideas. Notes from Underground builds on a strong tradition of creative work that is rooted in a sense of place."
Both successful artists in their own right, it's the first time the two have collaborated, although working together is something they had discussed before. "We had talked about working together at some point, and here was a perfect opportunity," Sean comments. "I feel very lucky to work with Agustín. He has an obvious affinity with poetry and is an imaginative and generous collaborator."
Agustín adds: "Sean's words are very powerful, inspiring and energising. It was an adventure, and I feel richer for doing it."
Notes from Underground will be performed on 15 October at the Gala Theatre, Durham by Royal Northern Sinfonia, baritone soloist Benjamin Appl and the Voices of Hope choir, conducted by Clark Rundell.
For tickets and more information about the programme, go to www.durhambookfestival.com
Picture courtesy of Sage Gateshead.
published on: 6 October 2015