New series of Insights public lectures gets underway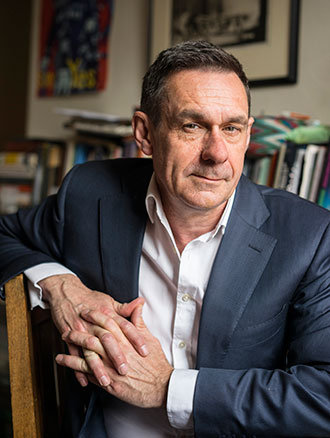 The Autumn programme of Insights public lectures at Newcastle University has now begun, with talks on a host of topical issues including the future of capitalism, human trafficking, and our ageing society.
On Tuesday 6 October, journalist and broadcaster Paul Mason (pictured) will discuss how, in the aftermath of the global financial crisis, we have an opportunity to create a postcapitalist society built around a more socially just and sustainable global economy.
To mark Black History Month, on 27 October Professor Paul Finkelman from the University of Saskatchewan will consider whether any lessons from America's experience of ending the African slave trade can be applied to the modern day issue of human trafficking.
Later in the programme, Baroness Ros Altmann will talk about pensions and our ageing society. A pensions expert and frequent media commentator on retirement issues, she was the Government's Business Champion for Older Workers and will discuss the challenges and implications of an ageing workforce.
Professor Richard Davies, Pro-Vice-Chancellor for Engagement and Internationalisation at Newcastle University, said: "The Insights public lectures series has attracted 50,000 attendees over the last five years and is renowned for having its finger on the pulse of current events. The Autumn programme continues this tradition with a diverse line up of topical and thought-provoking talks from speakers who are at the forefront of their area of expertise."
The Autumn programme will also feature some of the University's own experts. Professor Eric Cross will explore how our view of J S Bach has changed over the last hundred years, while Professor Julie Sanders – the new Pro-Vice-Chancellor for the Faculty of Humanities and Social Sciences - will cover the parallels between Shakespeare's Henry IV and works by contemporary writers that explore national and regional identity in the landscapes around us."
The Insights programme again features presentations from some of Newcastle University's young early career researchers. On 5 November, three PhD students will talk about their research around the theme of social renewal, while on 18 November the achievements of students from all three of the University's faculties will be showcased as part of a celebration of student research scholarships and expeditions.
All Insights public lectures are free and open to all and most take place at 5.30pm in the Curtis Auditorium of the University's Herschel Building, opposite Haymarket Metro.
For the full Insights programme, visit the website.
Photo credit: Antonio Olmos
published on: 2 October 2015