Princess finds out about Muscular Dystrophy research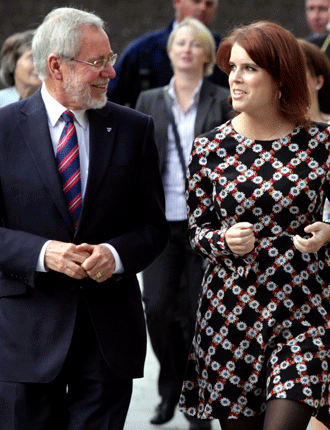 Princess Eugenie of York returned to Newcastle University, where she herself studied, to find out about the pioneering research undertaken at the John Walton Muscular Dystrophy Research Centre.
Her Royal Highness met with Newcastle University's Vice-Chancellor Chris Brink and a number of leading academics whose work aims to help patients with the debilitating condition.
Experts from the University showcased their research and Lord John Walton of Detchant gave an introduction about the work undertaken at the facility named after him, which is based at the Centre for Life in Newcastle.
Housing a team of 80 experts, led by Professors Kate Bushby, Volker Straub, Hanns Lochmüller and Rita Horvath, the John Walton Muscular Dystrophy Research Centre focuses on the key areas of the development of translational research, world-class patient diagnosis and care, innovative clinical trials and international networking.
Professor Straub, honorary consultant in clinical genetics at Newcastle Hospitals NHS Foundation Trust, said: "The team were delighted to have the opportunity to present examples of our current research to Her Royal Highness.
"We were able to explain how important this work is for improving our understanding about the causes of muscle disease and in developing new therapies for patients. We were also able to highlight the issues facing our patients and families who are living with muscle disease."
More than 70,000 people are living with muscular dystrophy in the UK and the hereditary condition causes weakening and wasting of the muscles.
Princess Eugenie met Ellie Cockburn and her mum Tracey. The 11-year-old, from Newcastle, has congenital myasthenic syndrome and is under the care of the team at the John Walton Centre.
Tracey said: "It was lovely to meet Her Royal Highness Princess Eugenie. She was so nice to talk to and seemed really interested in Ellie and her condition. It was a real honour to meet her and we shared a lovely afternoon tea!"
Professor Chris Day, Pro-Vice-Chancellor for the Faculty of Medical Sciences, welcomed the royal visitor to the medical school.
He said: "This visit gave us the opportunity to highlight the world-class work carried out by the team researching muscular dystrophy.
"The excellent practises which are exemplified in Newcastle are setting the standards in Europe and improving treatment across the UK."
Princess Eugenie studied English and history of art at Newcastle University, graduating with a 2:1 degree in 2012. She is now associate director at top London gallery, Hauser & Wirth.
During her visit on Friday (October 9), the 25-year-old was given a tour of Newcastle University's historic Armstrong Building.
Professor Chris Brink, Vice-Chancellor of Newcastle University, said: "It is always a pleasure to welcome back our alumni and to offer them the opportunity to hear about our academic activities, particularly as they tell me they have such fond memories of their time here."
published on: 14 October 2015