Newcastle University voted Top 10 for student experience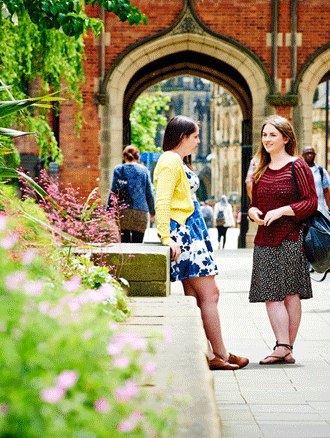 Newcastle University has been ranked in the UK's Top 10 for the experience it offers its students, according to an independent survey published today (9th April).
The Times Higher Education Student Experience Survey 2015 has placed Newcastle University 10th in the country for the quality of its teaching and courses, the opportunities it offers students through industry placements and the friendliness of its campus. The University is ranked 3rd overall for high-quality staff/lecturers.
Newcastle has risen six places in the annual poll which assesses all aspects of student life at university: from facilities and student societies, to the quality of lecturers and the community atmosphere on campus.
The positive results reflect the University's commitment to improving facilities on campus including: a £27m investment in student accommodation, upgrading IT facilities, expanding Wi-Fi coverage, developing innovative, user friendly spaces, and improving library resources with the acquisition of a new library building which will open in September 2015.
Professor Suzanne Cholerton, Pro-Vice-Chancellor, Learning and Teaching, Newcastle University, said: "This excellent result is an acknowledgement of the efforts and commitment of everyone at Newcastle University. We support our students to develop skills for learning, life and work through a number of programmes such as the Pride of Newcastle University Awards scheme. The scheme has offered students 12,000 opportunities in accredited and paid placements, volunteering and entrepreneurship modules.
"The high ranking is also a testament to the importance of the support community on campus. This community brings together the Students' Union, tutors and wellbeing staff to put students at the heart of the Newcastle University experience. Everyone is welcoming and our supportive attitude is something that we are all very proud of."
Claire Boothman, President of Newcastle University Students' Union, said: "These results are fantastic, and as a student of Newcastle University this is no big surprise as I have had an incredible experience, which made my studies very enjoyable.
"For students, University isn't just about gaining a degree. It is about the experience you have alongside it. At Newcastle you feel as though you are supported through learning and listened to by staff. The University and the city itself provide a great overall experience for students and you feel attached to both when you leave.
"At the Students' union, student experience is at the core of everything we do and so we are very pleased with the results. We want students' time with us to be as enjoyable as possible and we're here to find a student's niche; be it from club culture or horticulture.
"We also look to support and represent our students so they feel listened to and mean that their experience is always at the forefront of decision making both at the University and the Union. The Students' Union promotes a strong and vibrant community for all students."
The annual survey polls students from 113 universities across the UK on 21 aspects of university life that students themselves say matter to them most. The assessment areas cover everything from academic and staffing issues to the quality of the social life, cost of on-campus services and the standard of facilities.
published on: 9 April 2015