New scheme to boost partnerships between academia and industry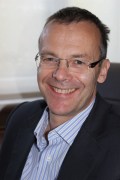 Newcastle University will receive a funding boost of £250,000 to help researchers and industry work together to enhance knowledge and skills by promoting the value of joint ventures.
The Medical Research Council (MRC) has launched a fund to help universities improve interactions between academics doing discovery science and researchers from across the life sciences industry.
Newcastle University was the only institution in the UK to be awarded the highest amount - £250,000 by the Proximity to Discovery: Industry Engagement Fund, which will give a total of £3m to 16 universities nationwide.
Professor Nick Reynolds is lead investigator of Newcastle's Proximity to Discovery scheme and says this funding from the MRC will help build further joint ventures and projects.
He said: "The award of the highest amount to Newcastle University by the MRC underscores our strengths in translational research, business development and innovation and stratified medicine.
"The goal of the Newcastle Proximity to Discovery programme is to address, in a systematic and innovative fashion - the so called 'third translational gap', that is the knowledge gaps that often exist on both sides between universities and industry.
"The funding from the MRC will allow us to facilitate people and knowledge exchange at the very early stages of collaboration and will build upon our strong relations with our partner organisations, including Newcastle Hospitals NHS Foundation Trust."
The new funding will enable universities to work with industry leaders at the earliest stages of research, allowing greater flexibility to respond quickly to opportunities as they arise and develop.
People exchanges are a key aspect of the scheme and this will include individuals at all career stages in medical research and also in technology transfer. It is hoped that the scheme will give academics and industry a detailed understanding of each other's work.
Dr Chris Watkins, director of translation and industry at the MRC, said: "The UK provides great opportunities for life science companies by providing a critical mass of scientific excellence in our universities.
"The MRC plays a leading role in maximising discovery science in the UK and shaping the research base by investing in people and capabilities, so that academic and industry researchers can carry out the research they need to do to accelerate the development of new treatments and technologies for improving health."
The Proximity to Discovery: Industry Engagement Fund can be used to support activities that promote the value of academic-industry partnership, enhancing researchers' understanding of each other's needs and capabilities. Activities can include the creation of technology demonstrators, showcase events and commercialisation workshops.
published on: 2 April 2015