24 Hour Festival Hack Day announced as part of the 6 Music Festival on Tyneside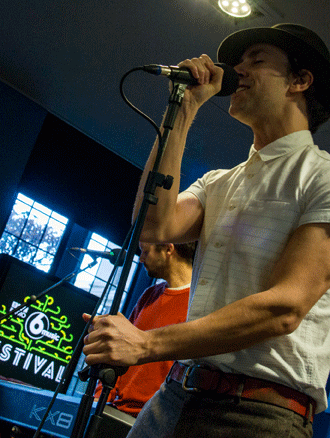 As part of 6 Music Festival on Tyneside, BBC Radio 6 Music has announced Festival Hack Day, in partnership with Generator and Newcastle University Business School.
The Festival Hack Day will be held at The Core within Newcastle Science Central from midday Friday 20 until midday Saturday 21 February with teams of techies working through the night to develop their festival ideas into web and mobile apps to trial at the event.
From creating personal line ups, to finding friends, learning more about the bands performing live and sharing unique festival stories – the creators at Festival Hack Day will have an open brief to look at all elements of the live music experience.
Dr Joanna Berry, Director of External Relations, Newcastle University Business School commented: "Newcastle University is delighted to support the Festival Hack Day and BBC Radio 6 Music Festival on Tyneside. Not only are many of the returning artists alumni of our university, but also we know that all of our students and regional contacts will get a huge amount of enjoyment from the event. The Festival Hack Day allows our business and computing science students, and in particular the increasing number of female computing science developers that we have, to show off their talents to a national audience.
"The 6 Music team has been tireless in working with us to make sure that the Festival Hack Day is as exceptional as possible and reflects our regions' immense creativity: we are really enjoying the run-up to these events and look forward to reporting on them afterwards."
Jonny Gray, Business Support Programme Manager at Generator – the UK's leading music development agency - said: "Generator is delighted to be playing an active role alongside the team at BBC Radio 6 Music and Newcastle University in bringing the Festival Hack Day to the region. As part of our ongoing commitment to both the music industry and the wider commercial creative sector in the north east, this event is an ideal platform to bring the music and tech communities together in a genuine collaboration."
Paul Rodgers, Head of Programmes for 6 Music commented: "The BBC's 6 Music Festival on Tyneside has yielded this wonderful opportunity to work with academic and business partners in the North East to try to create a digital innovation to enhance the experience of Festival goers and music lovers. Best of luck to all the incredibly talented people involved."
Peter Salmon, Director of BBC England said: "On top of the BBC's substantial commitment to television production in NE England, with the likes of The Dumping Ground and Inspector George Gently, it's great that digital collaborations are flying in the region with the BBC too, pioneered by Britain's leading digital radio station."
The Festival Hack Day is posed to be a very popular event so all those interested in participating must register first.
published on: 9 February 2015