Newcastle entrepreneurs bag a deal with the Dragons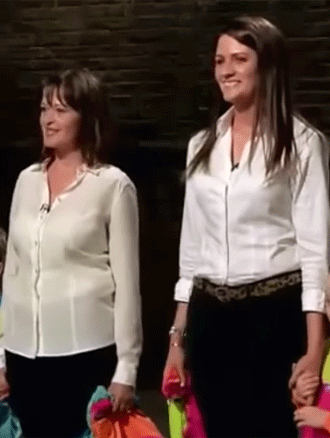 An entrepreneurial duo from Newcastle struck a deal worth £100,000 for their children's clothing company Baggers Originals after appearing on the popular TV show Dragons' Den. 
Mother and daughter Angela McLean and Jessica McCarthy (pictured) secured a deal with two of the dragons, Peter Jones and Deborah Meaden, for 30% equity in their Newcastle-based children's clothing company.
Young designer and entrepreneur Jessica McCarthy, 29, the wife of international rugby player Mike McCarthy re-launched the company after being the child model and face of the company in the late 80's when her mother Angela first launched the brand making waterproof outdoor play jackets and trousers that fold into an inside pocket for Jessica then aged 5 years old.
Twenty-five years after Baggers Originals was established, Jessica re-launched the company, initially online, after appearing on the BBC documentary programme Be Your Own Boss. Her accomplishment was acknowledged when she was invited with Angela to 10 Downing Street to showcase her new business.
Angela is keen to support young people who want to start their own enterprises, and has given her time to help Newcastle University Careers Service over the past 15 years. She is Visiting Entrepreneur for Rise Up - Newcastle University's support programme for student and graduate entrepreneurs, managed by the Careers Service, and is also visiting lecturer in the Business School.
Jessica said: "We were invited to audition for the Dragons Den and it has been thrilling to get the support of the Dragons on the TV programme of our products and brand. I have really fond memories of representing Baggers Originals as a child and it has been a real privilege to bring back this much-loved product for the modern family.
"As a business we've learnt over the years what works and what doesn't and having won so many awards and recognition in the past together with our new founded support from leading business figures such as Sir Richard Branson and now the Dragons – I'm confident in our range."
"Baggers is an excellent product for out-door play as well as a great rainwear product that parents and children love, they are so comfortable to wear and practical as they fold in to an inside pocket" said Jessica "On the Dragons Den we also gave a pre-view of our new swimwear range which is available later this year – and the Dragons loved it."
Sir Richard Branson who has also supported the company stating how "ingenious" the products are and expressing an interest in stocking the swimwear range on Neckar Island.
As well as selling on line –Baggers Originals are selling in global retailer Monsoon with a collaboration designed range and have just secured a deal with Dobbies Garden Centres who are stocking Baggers Originals' outdoor play clothes and rainwear for children from 1-8 years old.
Baggers Originals is due to launch additional products including a swimwear range following the same concept on its website and into retailers for Summer 2015.
published on: 18 February 2015