Top entrepreneurs share insights at Newcastle University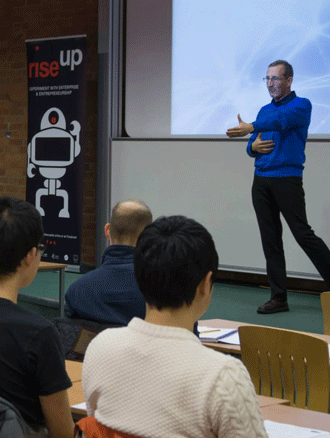 Captains of industry from all over the world are on course to deliver a series of lectures at Newcastle University about their remarkable journeys to success.
The Entrepreneurial Insights speaker series brings together high-profile business leaders from a wide-range of industries, who will be sharing their experiences of starting and running their own business and becoming leaders in their field. It is the latest initiative by Rise Up, the Newcastle University Careers Service support programme for student and graduate entrepreneurs, and the student society Newcastle Entrepreneurs.
Held at The Great North Museum and open to the public, the free sessions will give an up-close and personal account of the journeys the speakers have been on, the challenges they have faced, the successes, and how they would do things differently and the impact they've made.
Jamieson Combs kick starts Entrepreneurial Insights on 11 February at 5pm. The unorthodox American entrepreneur, activist and educator is behind the industry-leading NAKD wholefood brand, which he created in 2005. NAKD bars are now the best-selling healthfood bars in the UK, thanks to outperforming multinational giants on a fraction of their budget. Jamieson is an outspoken champion of wholefood, education and exercise as the foundation to sustained personal, social and economic progress.
The second lecture is taking place on 25 February, 5.30pm. It will feature Paul and Rob Forkan, the young brothers who were inspired to create a social enterprise after losing their parents in the 2004 Boxing Day tsunami.
Through their footwear brand Gandys flip flops and the Orphans for Orphans movement, Paul and Rob fund campuses where fellow orphans can receive medication and education. Gandys, now a fast growing fashion phenomenon, has many of their designs stocked in some of the leading retailers of the World. Ambassadors for the brand include Sir Richard Branson and Prince Harry, who support the social mission of the business.
Later in the year, Entrepreneurial Insights will be welcoming Anna Jones, CEO of Hearst Publishing. Anna is responsible for 19 magazine brands and seven digital brands – including Elle, Cosmopolitan, Esquire and Digital Spy. The BA International Business graduate from Newcastle University has made waves in the publishing sector by taking a leading role in what is a traditionally male dominated sector.
Gareth Trainer, Assistant Director (Entrepreneurial Development) of Newcastle University Careers Service said: "Entrepreneurship is at the heart of the Rise Up programme, and we are delighted that students and visitors will get an opportunity to learn from some of the brightest minds in the business world.
"All of the speakers are setting a great example of the impact that anyone with a good idea, drive and commitment can have not only on their personal development, but on society as a whole. I am sure the lectures will inspire many budding entrepreneurs to take the crucial step towards turning their ideas into successful ventures."
Vicki Dorling, President of Newcastle Entrepreneurs, adds: "Entrepreneurial Insights is a great chance for students to learn about the journeys successful entrepreneurs have been on and be inspired about alternative career opportunities.
"We've worked really hard with rise up to secure a great line up of speakers for the launch of the series and hope this initiative will give students the confidence to launch their own businesses one day."
Attendance is free on a first-come, first-served basis. Visit the Entrepreneurial Insights website to book a ticket.
published on: 10 February 2015