Children's cancer research campaign gets in gear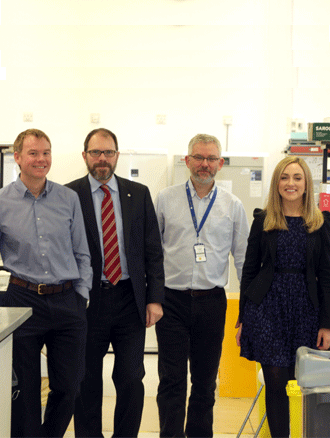 A £50,000 donation from one of the North East's leading family businesses will help Newcastle University to further strengthen the region's reputation as a centre for excellence in childhood cancer research.
Benfield Motor Group has pledged the generous gift through its Benfield Charitable Trust to help Future Fund campaigners take a step closer to realising their ambition to create the £5.5 million Newcastle University Centre for Childhood Cancer.
This new specialist facility will provide state-of-the-art resources where clinical and research teams from across the city can come together to advance and accelerate their understanding of how to treat childhood cancers.
The Future Fund is a partnership between Newcastle University, Newcastle Hospitals' Great North Children's Hospital (GNCH) and North of England Children's Cancer Research (NECCR), a charity set up by parents of children with cancer and which has raised £20 million for research in Newcastle over the past 35 years.
The £50,000 gift from Benfield was pledged by the company's owners the Squires family after learningof the NECCR's involvement with the campaign and its goal to position Newcastle at the centre of the global fight against childhood cancer. The pledge brings the campaign total to £2 million and it follows endorsement from North East heroes including Sting, Mark Knopfler and David Almond.
Mark Squires, Chief Executive at Benfield, said: "As a family business which hails from the North East we are absolutely delighted to support this worthwhile campaign. The Future Fund is going from strength to strength with fantastic support from many local businesses in our joint bid to beat childhood cancer. The money we have donated through Benfield Charitable Trust will be going directly towards the new centre, helping Newcastle become the centre of excellence for children's cancer research."
Chris Peacock, Chairman of NECCR, said: "We are delighted that the Squires family have donated such a significant sum to help lead the battle against children's cancer. Having a state-of-the-art research centre will only further the world class work being done here in Newcastle. Ultimately it will lead to faster diagnoses and less toxic treatments of this terrible disease. We can't thank them enough for helping us towards our target."
The planned Newcastle University Centre for Childhood Cancer will be established in the heart of the Newcastle University campus and will help the city retain key staff and attract additional internationally recognised experts in the field. Work will focus on developing therapies with fewer side effects and treatments for children with advanced cancer or those whose cancer has come back.
Professor Josef Vormoor, Director of the Northern Institute for Cancer Research at Newcastle University and Honorary Consultant Paediatric Oncologist at the GNCH, is leading the Future Fund campaign and said he was overwhelmed by this latest donation.
He said: "Our researchers and clinicians are working tirelessly to understand childhood cancers and develop new and better ways to treat them. Already our work has improved thousands of young lives and with donations like this from Benfield Charitable Trust we can ensure we make the future one to look forward to for even more children diagnosed with cancer."
For information please visit the Future Fund's website. To donate visit www.justgiving.com/futurefundnewcastle, text NCFF01 plus the amount of your donation to 70070 or telephone 0191 208 7250. Support the fund on Facebook and on Twitter @FutureFundNCL and use the hashtag #NCLFF
Photo - From left: Chris Peacock, Mark Squires (Benfield Motors), Professor Steve Clifford and Dr Katie Harland.
published on: 7 January 2015