Music students perform at inaugural Holy Island festival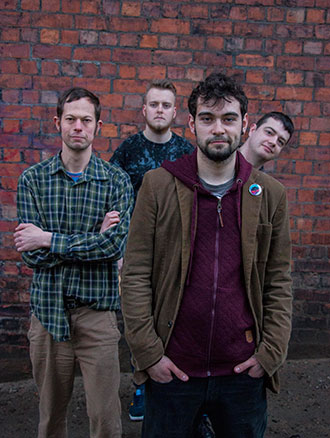 Students from the University's International Centre for Music Studies (ICMuS) will be the first acts to perform at the first ever Holy Island festival, later this month.
Supported by Newcastle University's Institute of Social Renewal and Institute of Creative Arts Practice, the festival takes place 25 – 28 June.
The students will be performing jazz, folk and popular music, and hosting events and workshops in the historic Lindisfarne Castle and Priory.
Daryl Burns, from Alnwick, has just finished his BA (Hons) in Contemporary and Popular Music. His band, The Pastures, pictured, is one of the acts performing at the festival. Daryl said: "It feels great to be able to play such a diverse event and in such a beautiful place as well! As a band, we are all very passionate about our original music and to be able to play at this event is really exciting."
Professor Eric Cross, Dean of Cultural Affairs, said "The University is pleased to be supporting arts and culture in rural Northumberland especially on the iconic Holy Island. I would encourage our colleagues and students to attend the festival. What a wonderful way to spend a summer weekend and support our talented creative arts students".
Among the other performances during the weekend are acclaimed North East guitarist Martin Stephenson, the Royal Northern Sinfonia, and founding member of Lindisfarne, Roy Laidlaw.
For more information and tickets, visit the Holy Island Festival website.
Pictured: The Pastures. From Left to right: Simon Stephenson, Stuart Kirby, Daryl Burns, John Tilbury.
published on: 18 June 2015