Newcastle University scoops top leadership and management awards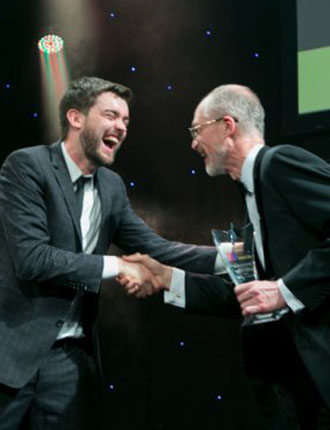 Newcastle University has won two awards in the Times Higher Education Leadership and Management Awards 2015, including the top award.
The awards, known as the THELMAs, celebrate outstanding leadership and management in the UK's higher education institutions.
Newcastle University won the Outstanding Leadership and Management Team category. The judges praised its innovative programmes to develop leadership throughout the university and improve the diversity of those in senior positions. Its flagship programme for talent development, Faculty Futures, in particular was praised. Each year, 20 to 25 early career staff are identified as having leadership potential and provided with a programme of support. Of the current cohort on this scheme, 15 out of 23 are women.
The judges said: "What distinguished Newcastle University's submission was that it defined the leadership and management team in the broadest sense and focused on the development of leadership skills and capacity throughout the institution. This approach, importantly led from the centre, exemplified for the judges an approach to developing distributed or shared leadership capability and responsibility."
It's the second time the University has won this award in three years.
The University also won the Outstanding Procurement Team award, for the Smartfusion initiative. This aims to reduce the number of delivery vehicles on campus and cut carbon emissions as a result. Deliveries are redirected to an off-site consolidation centre and then distributed throughout the university using an all-electric vehicle. More than 30 suppliers are now involved in the project and the number of delivery points on campus has been reduced from 229 to nine.
The judges were impressed with the collaborative work that involved many parties to stop direct delivery to the campus site. "The benefits include cost savings to the university along with improvements to health and safety around the campus while protecting the environment using electric vehicles," they said.
Dr John Hogan, Registrar, Newcastle University, added: "Leadership is widely distributed in this University and that is how it should be. We have over the years done exceptionally well in the Times Higher Education Leadership and Management Awards with recognition for many services and their staff.
"I would like to thank and congratulate our Library team for being short-listed again in their highly-competitive area, the Procurement team, under Neil Addison, and the work of Lynne Howlett, Liz Kemp and others in the Staff Development Unit for their work on leadership development."
Veryan Johnston, Executive Director of Human Resources at Newcastle University, said: "We're delighted that our Faculty Futures and Smartfusion programmes have been recognised as best practice in leadership, innovation and teamwork. This is an outstanding achievement and congratulations go to everyone across the University who has worked hard to make these programmes such a success."
For a full list of winners see the Times Higher Awards website.
Photo features Dr John Hogan receiving an award from the evening's host, comedian Jack Whitehall.
published on: 19 June 2015