Students provide warm reception for stargazers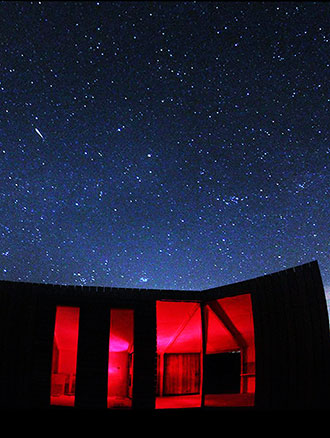 Architecture students at Newcastle University have designed and built The Warm Room, a contemporary timber structure at Kielder campsite in Northumberland for visitors to enjoy as part of their stargazing experience.
The shelter, which will offer amateur astronomers a refuge from the weather, was designed and built by students at Newcastle University's School of Architecture, Planning and Landscape in support with Kielder Art & Architecture and local residents.
The project began in October 2014 when the students produced a number of design proposals and then presented them to the community. Following the selection of a preferred option the students worked with residents to develop the design before submitting a planning application. The 38m2 timber-framed structure was then part prefabricated in the School with site-based works commencing in early February 2015.
The Warm Room can accommodate up to 20 people and is a re-interpretation of the simple agricultural buildings of the region. It is clad with larch and lined with birch plywood, with two 3 metre-high windows allowing wonderful views of the Kielder landscape and sky. The well-sealed and insulated construction is designed so that the space can be heated by solar energy, occupants and light fittings without the need for additional energy inputs. It provides a sheltered space and equipment charging point for stargazers who participate in overnight star camps as well as a venue for community meetings, educational events and stargazing seminars. The students also incorporated a sheltered external cooking area for use by campers.
The Warm Room is the result of an ongoing collaboration between Newcastle University's School of Architectureand Kielder Art & Architecture's Testing Ground programme, and follows the success of the Stargazing Pavilion constructed at Stonehaugh last year by a similar group of students.
Both of these projects aim to consider the broader ecology of the building process and explore social sustainability, by working directly with communities, using local expertise or providing local training opportunities whilst also adding a direct social and economic benefit to remote rural communities.
Prof Graham Farmer, Director of Architecture at Newcastle University, said: "The opportunity to work directly with a rural community has been an invaluable experience for the students and they have gained numerous transferable skills, from dealing with statutory bodies, to managing time and cost, as well as actually constructing one of their own designs.
"Projects of this nature are incredibly hard work, but immensely rewarding for all involved. The students demonstrated a real commitment to, and enthusiasm for The Warm Room and worked in all weathers to ensure it's successful completion."
Pippa Ramsay, one of the students involved said: "The project in Kielder gave a unique opportunity to get involved with every aspect of design. It is rare that architects get to build their own buildings. This was an incredible experience which had taught me to appreciate and enjoy the different sides to architecture."
Student Phil Morris added: "Having the opportunity to design and self-build a piece of real architecture from sketch to completion is an unusual accolade for any architect, it has been a fantastic achievement and seeing the space being used and improve the site is very rewarding."
Peter Sharpe, Kielder Art & Architecture curator, said: "Kielder Water & Forest Park has become a hot spot for astro-tourism, attracting amateur astronomers from across the country so it's important we give people a good visitor experience and a network of opportunities to enjoy our dark skies.
"This project is another great example of partnership working and it's fantastic that the students have really listened and engaged with the community, creating a unique venue to help benefit those who are viewing the stars with somewhere to warm up."
The Warm Room is part of the wider *Animating Dark Skies programme, which is supported by The Rural Development Programme for England, for which DEFRA is the Managing Authority, part financed by The European Agricultural Fund for Rural Development: Investing in rural areas.
Photo of The Warm Room at night courtesy of Robert Ince.
published on: 18 June 2015