Newcastle University will deliver new course in Genomic Medicine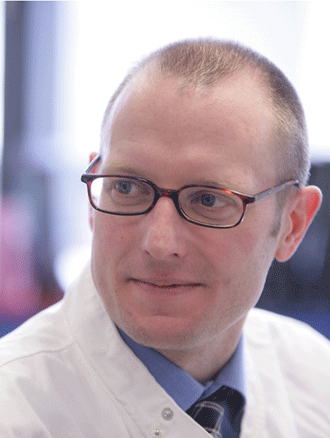 Leading academics have been chosen to deliver a new course in Genomic Medicine with doctors and genetic counsellors from a hospital trust.
Newcastle University is one of only nine centres across England selected to run the exciting MSc Genomics Medicine programme with Newcastle Hospitals NHS Foundation Trust's Northern Genetics Service. Health Education England (HEE), in partnership with Genomics England, NHS England and Public Health England has commissioned the course.
Genomics is defined as the study of genes and their functions, focusing on the structure, evolution and mapping of an organism's complete set of DNA.
The successful course bid was led by Dr John Sayer, an academic senior clinical lecturer at Newcastle University's Institute of Genetic Medicine and honorary nephrologist at the Freeman Hospital.
Dr Sayer (pictured) said: "This is a fantastic opportunity for Newcastle University to host a new, bespoke Masters in Genomics Medicine course, working alongside clinical experts in this field based at the Northern Genetics Service who will help to deliver the course.
"It is also an exciting time for students, which will include NHS staff from across the whole breadth of clinical and laboratory services.
"The vision is to educate NHS staff, allowing them to embrace Genomics and integrate this knowledge into their workplace, for the improvement of patient care."
The course will be available to NHS staff, with fees being paid by ring-fenced funding from HEE. The programme has been designed to run as a full-time and part-time MSc or Postgraduate Diploma. In addition, components of the course can be taken as standalone Continuing Professional Development, or credit achieved from modules can be built up to achieve a Postgraduate Certificate in Genomic Medicine.
The course will begin later this year and it is hoped that it will attract NHS healthcare professionals from a range of disciplines, including medicine, laboratory science, nursing, public health, pharmacy and genetic counsellors.
A team of experts at Newcastle University and the Northern Genetics Service have helped to design the course, with an emphasis of blended learning. The programme will equip students with knowledge, understanding and skills to integrate genomic technology and its data into patient care.
Dr Paul Brennan, Clinical Director of the Northern Genetics Service, said: "This new MSc complements major developments taking place in the form of the North East and North Cumbria NHS Genomic Medicine Centre by providing an opportunity for NHS staff to develop their skills in genomic medicine, to prepare for the future."
Newcastle University and Newcastle Hospitals NHS Foundation Trust are already part of the ground-breaking 100,000 Genomes Project which consists of collecting and decoding human genomes that will help scientists and doctors to understand rare disease and will lead to the design of personalised treatments. Health Secretary Jeremy Hunt was recently in the North East to meet the first patients to benefit from the scheme.
Professor Chris Day, Newcastle University's Pro-Vice-Chancellor for the Faculty of Medical Sciences, said the new MSc Genomics Medicine course was further evidence of Newcastle's excellence in genetics and education.
Dr Tom Fowler, Director of Public Health at Genomics England, said: "The MSc in Genomic Medicine marks the beginning of creating a lasting legacy for patients and the NHS through the 100,000 Genomes Project. Healthcare professionals and public health workers will be learning how to apply whole genome sequencing and helping to integrate genomic medicine into routine healthcare."
published on: 27 May 2015