Cultural Heritage in Landscape (CHiLaT)
Developing landscape characterisation methods to address environmental and social challenges.
Landscapes underpin sense of place and identity: with careful management, they can transform people's quality of life.

Although landscapes change constantly as a result of human actions and natural processes, researchers have not yet created spatial models at a large scale that provide detailed insights into historic landscape change. Such models could be used to understand fundamental issues such as the links between historical changes, intensification and climate change, and to inform planning for the future.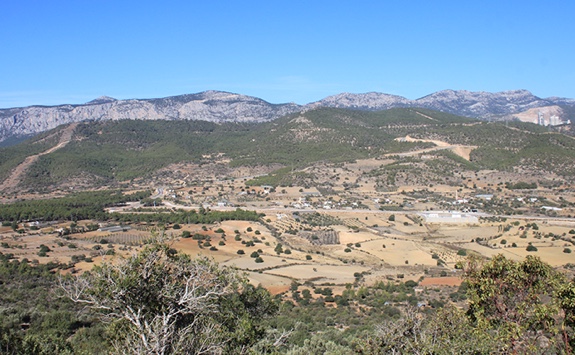 About the research project
The Cultural Heritage in Landscape (CHiLaT) project developed emerging landscape characterisation methods that can be used across and between disciplines to address the challenges of environmental and social change through landscape. Leading specialists from Turkey and the UK worked together with a team of Early Career Researchers to identify and address challenges facing societies in both countries through landscape.
During the research programme, the team developed innovative and practical methods to create positive impacts within 5-10 years. This is especially urgent in Turkey, as quickening economic development and social change create both positive and unintended negative impacts including loss of landscape character and poor-quality landscapes.

The partners promoted research using Historic Landscape Characterisation (HLC), an interdisciplinary technique developed in the UK and first piloted in Turkey by members of the team with the aim of informing positive landscape planning and management.
Funder: RCUK – TUBITAK Newton Project
Duration: November 2016 – May 2019
PI and further team:
Newcastle University:
Sam Turner - McCord Centre for Landscape, School of History, Classics and Archaeology
Mark Jackson - Archaeology, School of History, Classics and Archaeology
Turkish universities:
Engin Nurlu - Ege University
Nurdan Erdoğan - Ege University
Günder Varinlioğlu - Mimar Sinan Fine Arts University
T. Emre Şerifoğlu - Bitlis Eren University
Ebru Ersoy - Adnan Menderes University