Free online course explores the risks of falling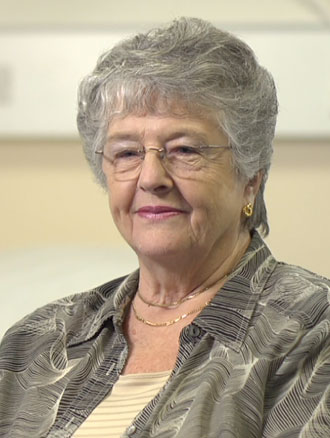 Newcastle University is launching a new free online course to help people learn how to prevent falls and injury. 
The four-week course, hosted on the FutureLearn social learning platform, is called 'Ageing Well: Falls'. It explores why almost 10,000 people aged over 65 fall every day in the UK and provides practical advice on how to prevent falls. Taught by leading scientists from Newcastle University's Medical School, the interactive course goes live on 24 November and is now open for registration.
Course participants will spend two hours per week learning about ways to reduce the risk of falling and when to seek help. They will meet people who have been affected by falls through a series of video case studies, and discuss together the important issues they raise.
Mrs Heather Newton, 72, from Gosforth (pictured) was one of the participants involved in the development of the course. She said: "Before I had my fall I was very confident and felt I could do anything. Since falling, I am more cautious when walking anywhere particularly with things like stairs and escalators. Being seen by the Falls team at the Newcastle Hospital really helped me understand how I could avoid another fall.
"I am really glad I took part in developing this course because if one person learns something that prevents them going through what I had to, then it was worth it."
Professor Julia Newton and Dr James Frith are the course leaders. Professor Newton comments: "While much is known about the effects of falls in older people, less attention has been paid to studying and preventing the risks of falling. This course will help older people understand what they can do to prevent falls and also what they can do if they have experienced a fall."
Dr Frith added: "People fall because of a complex mix of factors. To reduce falling, it is important to identify these factors, and recognise those that could signify serious, but treatable, underlying medical problems.
"The personal costs are staggering, with falls resulting in injury, broken bones and physiological problems leading to social isolation. The aim of this course is to help older people and their carers discover ways of assessing and reducing the risk of falling via tutorials, case studies and classes fitted into the participants' schedules as they wish."
This is the second free online course launched by Newcastle University. It includes work with the award winning Falls and Syncope Service (FASS) at Newcastle's Royal Victoria Infirmary, and has been developed in partnership with the National Institute For Health Research - Biomedical Research Centre in Ageing which is based in Newcastle.
The University involved older people in the development of the course by collaborating with the Voice North group – a large panel of members of the public interested in being involved in research on ageing, which was established by the Newcastle University Institute for Ageing.
FutureLearn is a social learning platform, which offers free online courses from globally renowned UK and international universities, specialist education institutions and cultural bodies like the British Council, British Library and British Museum.
Registration is free and is open now until the end of the course in December via FutureLearn.
published on: 8 September 2014