Graduation success for Newcastle University students in Singapore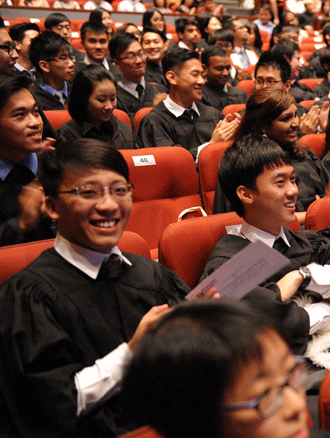 Hundreds of students celebrated degree success at a graduation ceremony held by Newcastle University at its Singapore campus.
In total, 267 undergraduate and 31 postgraduate Newcastle University degrees were awarded at the event this month, which was the sixth annual graduation ceremony for Newcastle University students in Singapore.
In 2009, Newcastle University joined forces with the Singapore Institute of Technology, Ngee Ann Polytechnic and Nanyang Polytechnics to launch its Singapore operation (Newcastle University International Singapore - NUIS. Since then, it has supported 1,350 students on courses ranging from food and human nutrition to naval architecture.
Newcastle University's Dean and Chief Executive in Singapore, Professor Ehsan Mesbahi, said: "There is no doubt that our graduates in Singapore today have the potential to become catalysts for change and innovation in industry and research. Our objective in educating the youth of Singapore is to deliver innovative solutions for the country's economic future and a pool of world-class talent."
Newcastle University's masters students graduated in range of disciplines including medical research in cancer, diabetes and cardiovascular disease, as well as marine technology and offshore engineering. As a research-intensive institution, NUIS has been offering its industry-linked Masters programmes in science, technology and engineering in Singapore for the past 10 years.
At the same ceremony, Newcastle University awarded an Honorary Degree to world-leading cancer researcher Professor Sir David Lane, Chief Scientist of Agency for Science, Technology and Research. Professor Lane received an Honorary Doctor of Science degree in recognition of his significant contributions to cancer research – the first Honorary Doctorate awarded by Newcastle University in Singapore.
Professor Lane is one of the scientists credited with the landmark discovery of cancer gene called the "Guardian of the genome", which is considered the most significant of all the genes altered in cancer cells because mutations of the gene are known to cause almost 50% of all human cancers.
On presenting the honorary degree, Professor Steve Homans, Pro-Vice-Chancellor of the Faculty of Science, Agriculture and Engineering at Newcastle University, said: "Professor Lane has made remarkable contributions as a researcher, educator and leader in oncology and the field of science more generally. It is a pleasure to recognise his outstanding achievements here in Singapore, where Professor Lane has played a significant role in cutting-edge scientific research.
"Our graduating students have much to learn from role models like Professor Lane, who we hope will prove a source of inspiration as they embark on their careers."
Newcastle University partners with the Singapore Institute of Technology (SIT), Nanyang Polytechnic and Ngee Ann Polytechnic to deliver its undergraduate degrees.
Newcastle University graduates have strong employment prospects in Singapore, with degrees in disciplines closely aligned with the city-state's strategic challenges including Urban Planning, Chemical Engineering, Marine Engineering, Mechanical Design and Manufacturing, Naval Architecture, Offshore Engineering, and Food and Human Nutrition.
Approximately 93% of NUIS graduates are employed or undertake further study within 6 months of graduation. NUIS students benefit from scholarships and employment opportunities made available through partnerships between NUIS and leading industry players. With over 50% of students on scholarship in some degrees, NUIS has the highest percentage of industry scholarship to student places in Singapore.
published on: 19 November 2014