North East winter prepares runner for the 'coolest marathon on earth'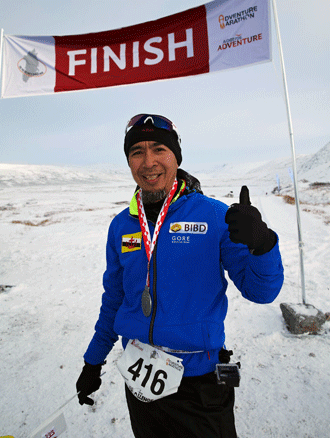 A Newcastle University student has completed the coldest marathon on earth – and says training in the North East last January was the best preparation he could have had.
Braving the elements over the icy cap of the Arctic desert in Greenland, Asari Abdul Rashid, a PhD student in the School of Civil Engineering, became the first person from Brunei to complete the back-to-back half and full marathons - a feat known as the Polar Bear Challenge.
Despite the 'unseasonably warm temperatures' of around -20°C, Asari says his training with the Tyne Bridge Harriers during last winter helped prepare him for the gruelling trek.
"Many people asked me how I trained for the extreme conditions. All I can say is that I never did other than my training in the North East British Winter last January," says Asari, who completed the half marathon in 2:52:27 hours, finishing 57th out of 97 runners and the full marathon the following day in 5:39:10 hours, finishing 89th out of 120 runners.
"My half marathon race plan was to take it easy and enjoy the race by taking a few stops for photos and videos and to try not to finish last as I was going to be running again for full marathon on the next day. I was able to take in the stunning scenery and running past glaciers and endless vistas was a breath-taking experience."
Reflecting on his run plan, Asari said: "Having run half the course the day before, this worked well enough as the runners ahead had to clear the thick knee-depth snowy path which lessen the physical effort for those who ran behind.
"Coming from Brunei, a humid tropical country, with average daily temperature of around 30-31°C, I had never experienced this kind of extreme weather. This was more than winning a race – this was an adventure of a lifetime."
Asari has already completed multiple races including the Belfast, Greater Manchester and Edinburgh marathons, as well as the 110km-long ultra-marathon from Carlisle to Newcastle. For the Polar Circle challenge, he was supported by Bank Islam Brunei Darussalam as part of ALAF Programme (Advocating Life-Long Learning for An Aspiring Future).
Runners from all over the world travelled to Greenland for the marathon. A total of 167 runners from 27 nations took part.
published on: 13 November 2014