School lunches deliver health benefits - but only if they are consumed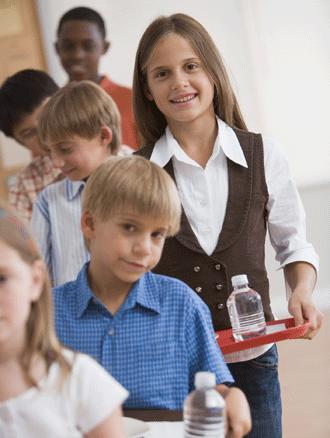 Universal free school meals should be offered to all children in their first years of secondary school, according to one of the leading nutrition experts in the UK.
New research by experts at Newcastle University has shown that despite improvement in school lunches, fewer pre-teens are benefiting because less of them eat school lunches than children in primary schools.
Led by Ashley Adamson, Professor of Public Health Nutrition and director of Fuse: the Centre for Translational Research in Public Health, the team analysed the school lunch and total diet of children aged 11-12 to evaluate the impact of the healthy school food standards, which were implemented in 2009.
Professor Adamson's team found that both before and after the policy change 11-12 year olds eating school lunches were eating less saturated fat and less salt at lunchtime. In children's overall diet, the findings show that before the change in 1999-2000 children eating a school lunch had higher per cent energy from fat compared to children eating a home-packed lunch.
However, after the change in 2009, children eating a school lunch received less of their energy from fat than children eating a home-packed lunch and ate less salt. Regardless of whether children had packed or school lunch, 11-12 year olds did not eat enough iron and had too much sugar in their diet.
Eating fewer school lunches than younger schoolchildren and food choice are some of the reasons why 11-12 year olds are not receiving the health benefits of school lunches.
Professor Adamson (pictured), who was one of the advisors for the School Food Plan launched in 2013, explains: "Unlike the primary school children coming through now, older children had got used to 'chips with everything', served in their schools and when this stopped many switched to packed lunches.
"While parents have great influence over younger children, 11-12 year olds are fully exposed to the wider aspects of our obesogenic environment such as food marketing. This means that the food culture of pre-teens is more likely to include fast foods and unhealthy snacks."
The study, published in the academic journal PLoS ONE, is part of the research programme of the Public Health Research Consortium funded by the Department of Health. It examined the impact of the policy change from 2009 which imposed food and nutrient-based standards for school meals.The researchers analysed the dietary intake of 11-12 year olds from over 500 children in six Northumberland middle schools. Data from 1999-2000 were compared with the results from the same schools taken in 2009-10 to assess the effect of the policy.
This is one of the few studies to focus on the 11-12 year old group. It was compared to previous research, conducted by the same team and published in 2013, which found that children in primary schools eat a healthier overall diet thanks to improved school food and the higher school lunch consumption.
The number of 11-12 year olds eating a packed lunch increased from 19% to 54% after the policy change. By contrast, in areas of the North East England over 90% of primary school children are now eating a school lunch after the School Food Plan was launched in 2013 and from September this year all children in their first three years in school can have a free school meal.
Professor Adamson believes the next target for free school meal entitlement should be the first years of secondary school, starting with year 7s ( 11-12 year olds).
She said: "Our previous research has shown that changes to school food led to an improvement in overall diet for children from primary schools. The School Food Plan offers new opportunity for improvement which includes the wider aspects of food in schools - so more young people can benefit from enjoying good food, together.
"In addition to making school lunches the norm, we need a more sophisticated approach to encourage more children aged 11-12 to eat at school. We need to find solutions to improve the school dining room experience through allowing children to eat with their friends, keeping queues down and providing an attractive environment.
"We need to make sure all children can benefit, to hook older children back into school lunch. Offering free school lunches could be one important step towards a healthier overall diet for 11-12 year olds, and I recommend we focus on this age group next."
The healthy eating standards from 2009 introduced balanced school diets, consisting of meat, poultry or fish; fruit and vegetables with every meal, and bread, other cereals or potatoes. The standards limit the number of deep-fried portions to two per week. In addition fizzy drinks, crisps, chocolate or sweets were removed from school meals and vending machines.
published on: 20 November 2014