Catherine Cookson supports the Hatton Gallery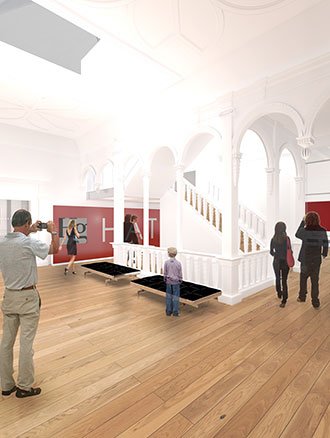 The Catherine Cookson Charitable Trust has given a significant donation to the Hatton Gallery.
The donation will support the Hatton Future fundraising campaign and echoes a personal donation to the gallery during a prior period of development in the 1980s by the late Dame Catherine Cookson, who was renowned for her passion for art and love of the region.
This isn't the first time that the Catherine Cookson Charitable Trust has given a gift to the gallery, as a donation of £50,000 was made in 1999.
The ambitious Hatton Future campaign aims to raise £3.5 million to transform this nationally important and popular gallery which is located on Newcastle University campus.

Julie Milne, Chief Curator said:
"In 1984, the Catherine Cookson Charitable Trust gave a considerable donation to the Hatton which enabled us to extend the gallery. We are absolutely thrilled to receive yet another generous donation of £50,000 which will contribute towards safeguarding the future of the Gallery through the Hatton Future Campaign".
Eric Cross, Dean of Cultural Affairs, Newcastle Institute for Creative Arts Practice, Newcastle University said:
"The Hatton offers a distinctive atmosphere and sense of place, which embodies the University's civic pride and provides visitors with a unique cultural experience. This project will offer new and exciting opportunities for people of all ages to enjoy and engage with historical and contemporary art."
The project involves conserving the gallery's historic and architectural elements, while creating a vibrant and modern exhibition space that will help bring about a new era for art exhibitions and learning. Plans include better interpretation of the iconic Schwitters Merz Barn Wall; improved lighting to bring the gallery up to industry standards; a dedicated learning space; and rebuilding the picture store to ensure its extensive collection is preserved for future generations.
The Hatton Gallery is managed by Tyne & Wear Archives & Museums on behalf of Newcastle University.
published on: 11 December 2014