Business School students go global with GEO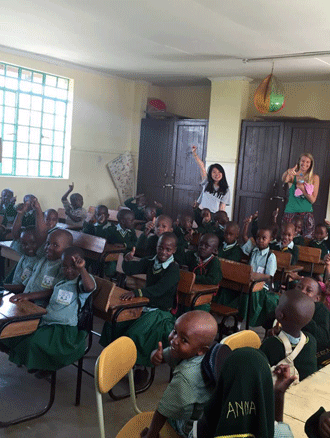 Students are adding an international flavour to their student experience thanks to a global internship programme. 
Twenty students from Newcastle University Business School are exploring the business community as part of the School's Global Experience Opportunity (GEO) programme. They are involved in various internship projects with private and non-profit organisations all over the world, including India, China and Tanzania.
James Stringer, 20, is currently interning at the Reserve Bank of India. The second-year Economics student said: "The international internship is a great way to improve my employability and gain practical experience. As an Economics student, I am very excited to be working in a fast-growing economy such as India.
"It is exciting to be outside my comfort zone and working with people from different backgrounds. It helps me gain a different perspective on my work, and I hope spending time in India will help me define my future career path."
Second-year Combined Honours student, Jesslyn Alverina is investigating income generating projects to help the Elizabeth Centre in Tanzania become self-sufficient.
Jesslyn will work with three other students from Newcastle and Groningen universities to look into ways the Centre can help to boost the economic development of local communities near Mount Kilimanjaro.
The 21-year-old said: "I'm excited but nervous at the same time because I've never been to Africa. However, I am really interested in the project and I look forward to learning more about Tanzania and the Elizabeth Centre.
"This experience will help me learn to adapt to new environments and communicate with people from different countries, skills I feel will help me in my future employment."
Bradley Smith, 20, is undertaking an internship with Linde Forklift Truck Company in Xiamen, China, following a six month placement at SPACE India based in Delhi last year.
The Marketing student said: "I believe that getting as much experience in as many fields as possible while at university is essential. Being involved in projects with people from all over the world in new and different environments has helped me learn to work more effectively. The international experience will help me grow professionally and as a person."
Bradley has a keen interest in the space industry and is a student advisor for Luna Mission One – a project that plans to send an unmanned robotic landing module to the South Pole of the moon. He said: "The international internships have given me a great set of skills which will help me to pursue a career in the space sector."
Other Business School students are currently involved in a medical research project at the Tata Medical Centre, Kolkata and India's Self Employed Women's Association (SEWA).
The internships are part of the Business School's GEO programme, an initiative which aims to provide students with opportunities to enhance their global experience, making them stand out from their peers on graduate job applications. Other GEO activities include global virtual case competitions, as well as an annual Gain a Global Advantage (GaGA) event allowing students to network with business leaders from across the world.
Photo caption: Jesslyn Alverina with pupils at the Elizabeth Centre School.
published on: 23 July 2015