Empowering local communities through digital technologies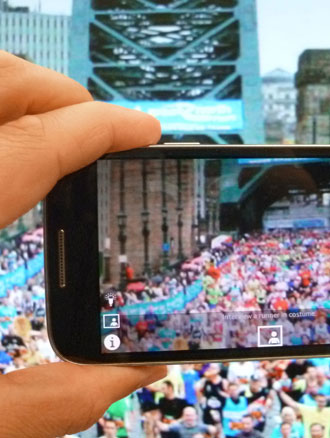 A £12m research centre has been announced that will explore the potential of digital technologies in shaping the future of local government services in planning, health, social care and education.
The new Digital Civics Research Centre, led by Newcastle University, is seeking to develop new forms of community-driven digital platforms that will allow local residents to both commission new services and play more active roles in the delivery of services that are better tailored to their needs.

The Newcastle centre was announced as part of the Government's Summer Budget and is one of six new research centres – worth a total of £45m – that will drive forward the UK's Digital Economy research, knowledge and skills.

Funded through the Engineering and Physical Sciences Research Council (EPSRC), the centre complements Newcastle University's £4.7m EPSRC Centre for Doctoral Training in Digital Civics, which together will make Newcastle the centre of the largest digital government research initiative in the world.

Led by Professor Patrick Olivier, of Newcastle University's Open Lab, the new Centre brings together 26 academics and 30 post-doctoral researchers from Newcastle, Lincoln and Northumbria universities.

The team will work in partnership with the three local authorities – Newcastle City Council, Gateshead Council and Northumberland Council – as well as a number of key organisations and businesses including the BBC, Microsoft, ARUP and Orange Labs.

Professor Olivier explains: "Over the past two decades, society has embraced digital technology, from mobile phones to social media, this transformation provides opportunity for communities to have their voices heard and get involved in rethinking the way that future local services might be provided.

"Digital Civics is not about just putting existing services "online" but is about exploring new ways in which digital technologies can be used by communities to engage in local government service design and delivery – to fundamentally reorient the relationship between those who govern and those who are governed.

Newcastle University's Professor Peter Wright, co-investigator on the project, adds: "This initiative is a true partnership with our local government partners, who are very excited about the potential to genuinely empower the communities they serve. With the scale of this initiative our goal is for the North East to be a beacon for digital government innovation, not just nationally but globally."
Chi Onwurah, MP for Newcastle Central, said: "Like it or loathe it, we are all increasingly becoming digital citizens and it's essential that no-one is left behind. That's why I am so pleased that Newcastle is going to have this fantastic resource and be at the leading edge of making sure our digital services work for everyone and not just a few.

"Anything which widens access and participation in local democracy should be welcomed and it is great news that Newcastle will be leading the way."

Nick Forbes, leader of Newcastle City Council, said: "The internet has changed the way we live our lives and it is crucial that we modernise our public services to take account of this. Having a centre of excellence such as this here in Newcastle will not just help us reform our services to match up to the needs of our residents, but it will also be a beacon for the rest of the country of the cutting edge research being done in this region.

"Newcastle City Council has embarked a Digital by Choice programme to adapt to the demands of the internet, and the university's digital technologies work will doubtlessly play a key role in how we as a council seek new ways to empower residents."
Adrian Woolard, Head of R&D North Lab, said: "As part of BBC Research & Development's User Experience Research Partnership, BBC R&D is supporting four Digital Economy research centres, including Newcastle, to help drive the UK's creative economy forward.
"By focusing on user experience research, we want to enable our audiences to enjoy genuinely new experiences enabled by an internet-based broadcasting system, data and context-driven insight and connected devices. Across all four hubs we will be able to tackle some of the biggest challenges and opportunities in broadcasting today - from immersive and interactive storytelling, to interfaces and services that offer greater accessibility, and flexible content that can be used for a range of learning, social and cultural purposes."

Professor Philip Nelson, EPSRC's Chief Executive said: "Building on our previous investments, these new Digital Economy Centres will show how multidisciplinary research in the digital economy can be brought to bear on the big societal challenges we face. Their impacts in the real world will be shown by adoption by policy makers and improvements in services and economic benefits in the public, private and charitable sectors.

"The six new centres are a result of a collaborative call with our partners the Arts and Humanities Research Council (AHRC), Innovate UK, the Digital Catapult and others. By working together and involving users we have been able to encourage the leveraging of £22 million additional funding and support in kind that will boost the impact of these centres."

Newcastle has a number of recent examples of participatory digital platforms that are underpinning the Digital Civics initiative:

PosterVote, a low-cost paper-thin electronic voting device that has allowed community activists to poll the opinion of residents on issues from parking to planning applications. Lead researcher Vasilis Vlachokyriakos explains: "The posters provide an easy and affordable way to collect opinions of residents and motivate discussion around community related issues. While social media users have a wealth of channels to express their view, PosterVote is designed to reduce the barriers to having your voice heard by being accessible to everyone at a location that has an opinion on the topic of a survey."

App Movement, is a service that allows any member of a community to promote their idea for a location-based review app. If a proposal garners enough online support then App Movement allows supporters to collaboratively design aspects of App, which is then automatically generated. Creator Andy Garbett says "App Movement means that you no longer need a software developer to create this sort of service – all you need is an idea that enough people think is worth supporting."

Bootlegger, is a new digital service that allows people to collaboratively create films my making it possible to plan, shoot and contribute to video projects using just a mobile phone. Says project lead Tom Bartindale "Bootlegger not only helps people select the right shot, but stores and organises clips in ways that make it easy to do the final edit. We've already seen it used in a wide range of events, from a few friends creating a video of a local band, to a few dozen people creating a short film of the Great North Run."
published on: 13 July 2015