Policymakers fail to address public concerns on fracking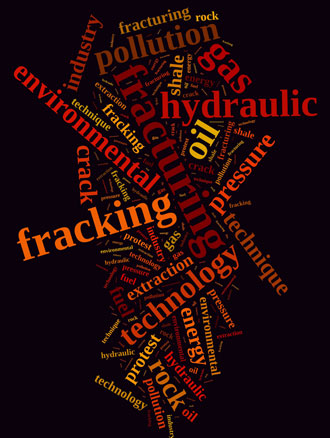 Rather than seeking to persuade the public of the benefits of fracking, policymakers should engage them in dialogue, allowing both sides to learn from the others' viewpoint, new research claims.
The study by ReFINE (Researching Fracking in Europe) – an independent research consortium focusing on the issue of shale gas and oil exploitation using fracking methods – has revealed a disconnect between policymakers and the public in the way fracking policy is portrayed and discussed.
Published today in the academic journal the Public Understanding of Science, "Framing 'fracking': Exploring public perceptions of hydraulic fracturing in the UK" explores public perceptions of fracking in the UK.
Key findings include:
• Policymakers and institutions take a technical approach to discussing fracking. This is limited to promoting an understanding of the safety risks and potential benefits.
• In contrast, the public have a number of concerns about fracking aside from a scientific understanding of the risks. As a result, these concerns are not properly considered during the policymaking process.
• Public concerns not considered by policymakers can be organised into the following themes: (a) trustworthiness of the institutions involved; (b) importance of inclusive and democratic decision-making; (c) whether alternatives to fracking have been sufficiently considered; and (d) whether the 'worst case' scenarios have been properly reflected upon.
• Rather than seeking to persuade the public of the benefits of fracking, policymakers should engage them in dialogue, allowing both sides to learn from the others' viewpoint.
Carried out by experts from Newcastle, Durham and Wageningen universities, the study was led by the Science Policy Research Unit (SPRU) at the University of Sussex.
Professor Phil Macnaghten, Professor of Technology and International Development at Wageningen University and corresponding author of the paper, said: "Our findings highlight a clear disconnect between how fracking policy is portrayed by government and policymakers and perceptions amongst members of the public. Arguably, this disconnect has exacerbated the fracking controversy over recent years.
"A key lesson for policymakers is that whilst assessment of the risks and rewards is important, a much more open approach towards public engagement is needed to ensure that the debate is not confined to such limited scope. Only on this basis can a more inclusive approach to policymaking be achieved."
Professor Richard Davies, of Newcastle University and ReFINE project lead, added: "The publication of ReFINE's first social science research paper provides an important insight into our understanding of public perceptions on fracking and demonstrastes the wide ranging nature of the debate.
"With fracking being pursued worldwide, lessons learnt from ReFINE's reseach are not just for UK policymakers but are relevant to governments and institutions across the world. On our part, ReFINE will continue to connect our research to these international audiences to ensure policymakers and the public have the best information available to inform their decisions."
ReFINE's study consisted of six in-depth qualitative focus groups. These took place in early 2013 and included members of the public located in different areas of Northern England. Analysis of views shared by focus group participants was compared with analysis of the way in which fracking policy is portrayed and discussed by UK policymakers and institutions.
Focus group participants shared a diversity of concerns over fracking. This was at odds with the risk versus reward approach that ReFINE found policymakers rely upon. This approach pursued by policymakers promotes established scientific knowledge about risk – used to consider safety – alongside technical knowledge about the potential benefits – used to consider feasibility. For policymakers, the basis for 'good' policymaking on fracking is limited to considering just these factors.
The concerns raised by focus group participants were organised into four themes:
• Trustworthiness of institutions including, in particular, the UK government and the energy industry;
• Importance of inclusive and democratic decision-making arising from concerns over the possible capture of decision-making by powerful incumbent interests;
• The need to avoid 'sleepwalking' into decisions over future energy choices – including a policy drift towards fracking – that appeared to have been insufficiently considered or democratically deliberated upon;
• A tendency to imagine the potential 'worst case scenario', as a response to a perceived complacency and naivety amongst scientific experts.
ReFINE's research found that in order to help align its approach to fracking with the views of members of the public, policymakers should consider and reflect upon their own institutional behaviour and framing, take a broader range of concerns into account and use a more precautionary approach. A policymaking approach to fracking should consider the possible uncertainties and unknowns as well as the need for debate on the conditions under which, if any, the technology may be socially acceptable.
ReFINE's study concludes that there are several lessons for policymakers seeking to discuss fracking issues with the public. Policymakers should avoid a 'salesperson' approach to fracking and should submit the possible benefits to the same level of scrutiny as the risks. The research also found that policymakers should avoid using 'post-political language' around fracking, which implies that there is no choice but to pursue the technology.
Public engagement should be a dialogue, not a monologue, and technical assessments of feasibility and safety should not monopolise the discussions on fracking. Engagement should be as much about policymakers learning about public issues as it is about the public learning about the facts.
Source Information: "Framing 'fracking': Exploring public perceptions of hydraulic fracturing in the UK".
published on: 14 July 2015