Celebrating the links between the North East and China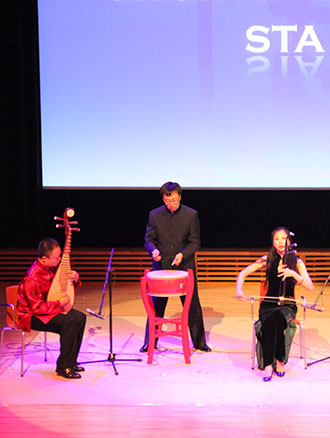 A colourful programme of traditional Chinese opera performances will come to Newcastle later this month, as part of a special celebration.
The Confucius Institute at Newcastle University is hosting a Chinese opera and music performance by the Shanghai Theatre Academy, pictured, at the Tyne Theatre and Opera House on Tuesday 29 September.
The free event has been organised to mark Confucius Institute Day, an international celebration of Chinese culture and the growing links between Confucius Institutes around the world and their local communities including universities, schools, and businesses.
The Confucius Institute - a partnership between Newcastle University, Xiamen University and the Office of Chinese Language Council International (Hanban) - aims to build closer academic, cultural and social ties between the North East and China in order to promote the understanding of Chinese culture and contemporary China.
Peking Opera is regarded as China's national opera and is the most popular and widespread opera in the country. Kun Opera is one of the oldest forms of Chinese opera still performed today and is known as 'the ancestor of the hundred plays' for its long history and superb performing arts. It is listed as one of the Masterpieces of the Oral and Intangible Heritage of Humanity by UNESCO since 2001.
Performing pieces that feature a range of traditional Chinese musical instruments, highlights will include a dance with silk ribbons in 'The Heavenly Maiden Scattering Flowers', as well as 'Defeat of Chu Emperor' which includes one of the most famous examples of Pipa (Chinese lute) music.
Also included is 'Borrowing the Plantain Fan', one of the most classical pieces of work performed by the Kun Opera. The performance tells the story of Tang Seng and his three disciples, who set off to go to the Flaming Mountains but are blocked from passing by the great barrier of fire. When Sun Wukong (the Monkey King) plans to borrow a palm leaf fan from Princess Iron Fan in order to extinguish the fire, the long-standing grudge between the two leads them to fight.
Professor Eric Cross, Dean of Cultural Affairs at Newcastle University, said: "Since it was set up, the Confucius Institute at Newcastle University has provided a focal point for promoting cultural exchange between China and the North East by bringing important artists from China to the region. The Shanghai Theatre Academy is one of China's leading performing arts institutions and I'm sure it will be an exciting evening both visually and aurally."
The performance will take place at the Tyne Theatre & Opera House, Westgate Road, Newcastle upon Tyne, on Tuesday 29 September 2015, 7.00 – 8.30pm. The event is free but tickets will be required. For tickets and more information, visit the website.
published on: 18 September 2015