Funding Opportunities for Innovation available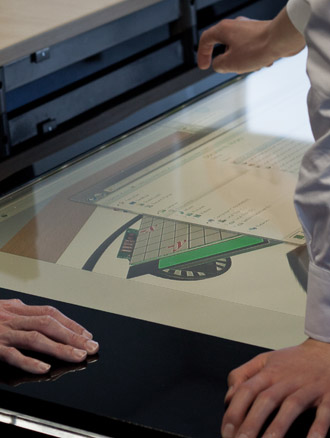 A new EU-funded initiative at Newcastle University provides a unique opportunity for technology businesses to fund innovation activities in collaboration with the University's computing experts.
The Cyber-Physical Systems Engineering Labs (CPSE labs) programme helps engineering and technology businesses access expert support and facilities at six leading laboratories across Europe, including the Cyber-Physical Systems lab (CPS lab) in Newcastle University's School of Computing Science.

The Newcastle lab is open now, but will ultimately be based at Science Central - Newcastle's £250 million flagship project bringing together academia, the public sector, communities, business and industry to create a global centre for urban innovation. The University's researchers are encouraging companies in North East England to apply now to the CPSE Labs programme for support.

Our CPS lab specialises in model-based design that breaks down the barriers between computer science and other engineering disciplines. Cyber-physical systems bring together digital devices, software, communications technology and sensors that interact with the real world. There are cyber-physical systems in a vast array of different commercial areas including transport, energy and security. Many of them involve the 'internet of things' in which the devices that people interact with are interconnected and 'talk to each other'.

Professor John Fitzgerald, who is leading the CPS lab at Newcastle University says: "At our Newcastle CPS lab we've come up with design techniques that integrate the digital and physical worlds which are so often separated in traditional engineering. This allows companies to model possible future products in the round – not just the software alone, not just the physical design, but both together. The CPS lab gives them the advantage of exploring different designs and to model the optimum solution prior to building a physical demonstrator."
Bridging knowledge gaps
An extra benefit of the CPS lab is that it brings together the expertise necessary to bridge any knowledge gaps: the team will be offering free training and funding support to companies interested in trying new design tools, transferring knowledge from one domain to another, or developing completely new types of product.

Professor Fitzgerald explains: "We have found that people working on the computing and physical aspects of a product tend to speak different languages in design. We are allowing them to talk and work together to better manage the risks of product innovation, and to build something that's fit for purpose the first time around. We're using these techniques with companies that design products like electric vehicles, building management systems, and even agricultural machinery, to help them solve critical design problems sooner rather than later in product development.

"In high-speed printers, for example, any small change in the geometry of the mechanical rollers that move paper through the machine needs to be communicated accurately to the engineers developing the software that controls the motors. If these different designers don't communicate correctly, faults like paper jams occur, affecting reliability. Instead of going through a series of expensive prototypes why not model the software and machinery together and build something that works the first time around?"
While the EU funds specific calls through CPSE labs worth up to £150,000 per company, local businesses can also work with the Cyber-Physical lab with support from the University's Innovation Fund to undertake consultancy and tailored guidance for product development.

"We want to work with companies in the North East and throughout Europe to help them develop and improve their products", says Professor Fitzgerald.
Funding call

The next funding call for innovation projects will open on 28 October with a deadline of early December. The process for submitting experiment proposals has been designed to be business-friendly. Information on submitting a proposal is available on the CPSE Labs website: http://www.cpse-labs.eu/calls.php
Free Networking Event
A free networking event where businesses can learn about cyber physical systems and applying for funding will be held in The CORE at Science Central on 27 October 8.30am-10.30am. Registration is required: please register.
Cyber-Physical Systems lab
The CPS Lab is developing foundations, methods and tools for design of dependable and resilient cyber-physical systems. It will be co-located with the Cloud Computing Innovation Centre, Smart Grid Laboratory and the Urban Observatory at the £58 million state-of-the-art Urban Sciences Building at Science Central. The CPS lab is at the centre of Newcastle University's vision for urban sustainability working with businesses to develop innovative products and services ready for commercial exploitation.
Cyber-Physical Systems Engineering labs
Cyber-Physical Systems Engineering labs (CPSE labs) is a European Union-funded initiative designed to provide support for engineering and technology businesses in Europe. Businesses (and other organisations) working in a variety of technology and engineering domains can design and propose research experiments with the best proposals receiving funding. http://www.cpse-labs.eu/
Institute for Sustainability

The Institute for Sustainability provides leadership and innovation in sustainability research at Newcastle University. Its work focuses on transforming infrastructure to better serve the needs of society and the environment, safeguarding and making best use of natural resources, and eliminating waste and the effects of pollution on ecosystems. The Institute works with industry, academia, policymakers and communities to develop and demonstrate practical, engaged solutions to real-world issues in sustainability worldwide under the banner 'Enough, for all, forever'.
published on: 8 October 2015