Is the way we live now changing too fast?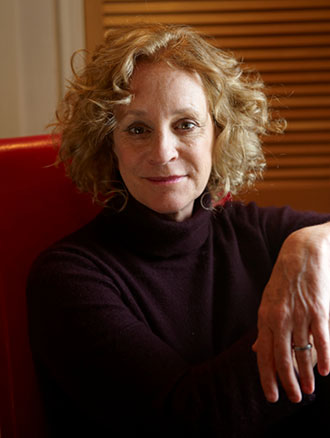 The Newcastle University Humanities Research Institute (NUHRI) officially launches next week with a public debate to explore 'The Challenge of Change' and how the arts and humanities can help us to understand change, and perhaps even make it happen.
Speakers including novelist Philippa Gregory (pictured), poet Lemn Sissay, historian David Armitage, and Emma Tucker, deputy editor of The Times, will discuss how changes in the way we live have been shaped by and reflected in the arts and humanities.
The event, which takes place on 15 October at Newcastle Civic Centre, has been supported by the Arts and Humanities Research Council (AHRC), and forms part of their Tenth Anniversary Debates series on 'The Way We Live Now'.
Pace of change 'too fast'
According to an online poll carried out by YouGov for the AHRC, nearly half of all adults (46%) think society is changing too fast, with respondents saying that the most important changes in the past 50 years had taken place in technology (61%) and population and migration (57%), followed by people's general behaviour (46%), and science and medicine (45%). However, a fifth (22%) of those aged 18-24 said that change was not happening fast enough.
In terms of leading change in the next 50 years, respondents thought the general public was best placed to lead any change (32% of respondents) but that journalists (22%), writers (18%) and scientists (18%) were best placed to help us understand change.
In the run up to the event, members of the public can submit their own thoughts on change at a dedicated website. Some of these comments are currently being shown on plasma screens around the Newcastle University campus and will help set the scene for the debate.
Professor Matthew Grenby, Director of NUHRI, says: "Change is happening too fast for some, not fast enough for others. It's what we want, but also what we fear.
"Humanities research spans disciplines as varied as architecture, history, politics and literature, so it naturally has an important impact on civil society. It's appropriate, then, that our launch event involves the public, and I hope it stimulates a debate about what 'change' means, and how we regard it."
Centre of excellence
NUHRI will be a centre of excellence for research in the humanities - academic disciplines that study human culture and the human experience, from any period and any place. It will promote the humanities both within and beyond the University, by initiating and supporting inter- and multi-disciplinary, collaborative research projects.
"NUHRI will showcase the quality of the work being done at Newcastle University in the humanities, and how it can have a positive impact throughout society," Prof Grenby adds. "In this way, it is aiming to play a significant role in the social, cultural and economic development of the North East of England and wider society."
The debate also forms part of a three-year programme of events commemorating the 50th anniversary of Martin Luther King's visit to Newcastle in 1967 to receive his honorary degree from the University. During his acceptance speech, he spoke of the challenge of bringing about a change in relation to racism, poverty and war.
The 'Challenge of Change' debate is free and open to all. It will take place on Thursday 15 October at 5.30pm in the Banqueting Hall of Newcastle Civic Centre. Doors open at 5pm. Find out more about the Challenge of Change event.
All figures, unless otherwise stated, are from YouGov Plc. Total sample size was 2198 adults. Fieldwork was undertaken between 14th - 15th September 2015. The survey was carried out online. The figures have been weighted and are representative of all GB adults (aged 18+).
published on: 6 October 2015