Newcastle City Futures wins Planning Excellence aw
Newcastle City Futures wins Planning Excellence award
Published on: 27 October 2015
A ground-breaking project involving businesses, the public, academics and the public sector working together to consider the challenges facing Newcastle over the next 50 years has won a major award.
A blueprint for cities around the world
The Newcastle City Futures 2065 programme, led by Newcastle University, was awarded the Chairs Award for Planning Excellence at the Royal Town Planning Institute (RPTI) North East awards. The awards recognise projects from the North East that have demonstrated excellence in innovation and sustainability.
The Newcastle City Futures project has been hailed as a blueprint for cities around the world because of the way that it brings diverse groups together to address the challenges that cities will face over the next 50 years.
As part of the project, Newcastle University led a comprehensive engagement programme that involved almost 2500 members of the public giving their thoughts on the future of the city at a special exhibition. In addition, over 100 experts and stakeholders from a range of community organisations, public sector bodies, voluntary organisations and the business community also gave their views.
These views and over 100 pieces of evidence contained in official reports and academic papers were presented in a comprehensive report published earlier this year in partnership with the Government's Chief Scientist.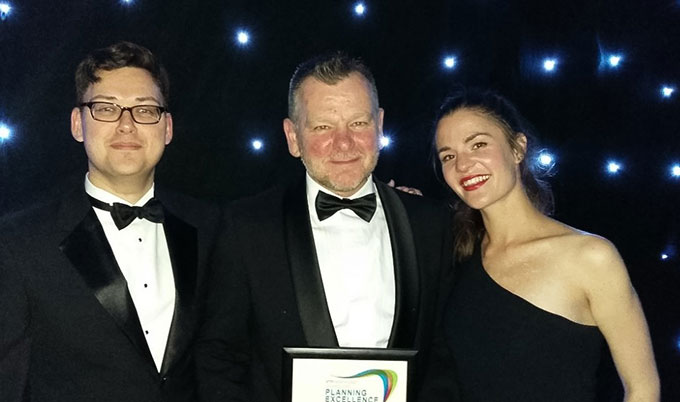 Shaping a long-term vision
Mark Tewdwr-Jones, Professor of Town Planning at Newcastle University and leader of the project, said: "I'm delighted that Newcastle City Futures has been recognised for the way it has engaged a range of groups in working together to address a common issue.
"Incremental project-by-project decision making is no substitute for long term thinking if we are to tackle the major societal challenges facing cities over the next 50 years, and this is what the Newcastle City Futures project aims to address. In this way, it will provide a useful foundation for citizens and businesses to help shape a long term vision for a newly devolved North East."
John Goddard, Emeritus Professor of Regional Development Studies at Newcastle University and co-leader of the project, said: "The Newcastle City Futures exercise showed that a university can play an important civic role in bringing people and organisations together to consider the difficult challenges facing a modern city. We believe innovation in designing the future shape of the city can be a discipline practiced by many, rather than an art mastered by few."
New partnerships
Following the publication of the Newcastle City Futures report, a new partnership, the City Futures Development Group, has been established. This is a collaboration between Newcastle and Northumbria universities, Newcastle City Council, the North East Local Enterprise Partnership and other policy organisations. A first for any major city in the UK, the partnership provides a one-stop shop for academics, local government and industry to discuss emerging and new areas of research that could be of benefit to the city.
Among the other projects highlighted at the awards was a unique scheme that aims to help young people have a greater say in how planning decisions affect their local environment. The YES Planning project helps young people learn about the town planning process and how they can be involved. It also gives town planners and developers a better understanding of what young people value about their local area, and how their decisions can have impact on young people.
As part of the project, students from the School of Architecture, Planning and Landscape developed a toolkit for town planners, developers, teachers and community groups to use with young people to involve them in the town planning process.
Teresa Strachan Professional Practice Tutor, said: "We're delighted that YES Planning has been recognised for the innovative way it enables young people to voice their opinion about their local environment. We were very honoured to be shortlisted, as it is a huge recognition for the work our students have been doing."
---
Latest News