Newcastle University London officially opened
Newcastle University London officially opened by Princess Eugenie
Published on: 22 October 2015
Newcastle University's new London campus has been officially opened by HRH Princess Eugenie of York.
New sculpture unveiled
To mark the opening, Her Royal Highness unveiled a new sculpture especially commissioned for the new campus and met with students and staff.
Princess Eugenie is herself a graduate of Newcastle University, having studied English and History of Art there. The sculpture, entitled 'Critical Mass', has been created by artist Joseph Hillier, also a graduate of the University.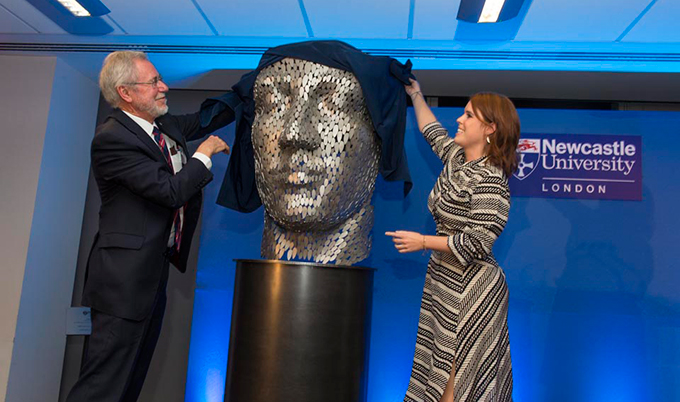 Global network
Newcastle University London, based in Middlesex Street in central London, provides full and part-time undergraduate and postgraduate study programmes for students from all over the world.
It also provides a London base for Newcastle University's triple-accredited Business School and the University's Continuing Executive and Professional Development programmes.
The London Campus is part of the University's global network – alongside its campuses in Singapore and Malaysia. Offering students, alumni and staff increased links to global business, industry and governments, it supports the University's mission to focus on not only what it is good at, but also, what it is good for.
Professor Chris Brink, Vice-Chancellor of Newcastle University, said: "Having a base in one of the most popular cities in the world complements Newcastle University's reputation for academic excellence. This exciting new development reinforces our international profile, and will deliver top-quality opportunities with an international focus."
Working with business
Newcastle University London, a joint venture with INTO University Partnerships Limited, the education partnering organisation, has state-of-the-art teaching, research and support facilities. It also offers a suite of programmes specifically aimed at business, in addition to extra-curricular and network programmes for Newcastle-based students and the wider alumni body.
Professor Amanda Broderick, Chief Executive Officer at Newcastle University London, said: "Home to extraordinary interactions, intellectual breakthroughs and exhilarating career pathways, Newcastle University London provides students and staff with increased links to national and international businesses in one of the world's most important financial centres.
"We are working hand-in-hand with businesses in the Capital and globally to develop graduates with the enviable skills and knowledge that top employers demand. Supporting the progression of students into leading positions across a variety of global industries and sectors is at the heart of what we do.
"With a unique professions-facing mission, the state-of-the-art facilities, technology and cutting edge knowledge eco-system of the London campus brings the best of Newcastle University to the capital."
Andrew Colin, Founder and Owner of INTO Partnerships, said: "We are enormously proud of our long-standing partnership with Newcastle University and delighted to support this exciting new campus in London. The Newcastle University London campus has a vital role to play in extending the reach of the University, bringing Newcastle's teaching and research excellence within the reach of a much wider audience and enriching what is an already world class experience, with access to all the capital has to offer."
The first programmes offered by Newcastle University London are a range of business-related undergraduate, Master's and university preparation courses. These include BSc Honours in International Business Management, BSc Honours in Accounting and Finance and BSc Honours in International Management and Marketing. Post graduate courses include MSc International Business Management, MSc Banking and Finance and MSc International Marketing. The University will be expanding its provision in London across its areas of excellence.
Find out more about Newcastle University London.
---
Latest News