New institute offers unique food chain expertise
New institute offers unique food chain expertise
Published on: 14 October 2015
A newly formed institute that joins up the research expertise of Newcastle University and Fera Sciences has opened.
Harnessing world-leading scientific expertise
The Institute for Agri-Food Research and Innovation (IAFRI) is a five-year £9 million collaboration, and will work with partners from the agricultural and food industries.

IAFRI will harness the world-leading scientific expertise which exists across both Fera and Newcastle University to drive forward innovation in areas such as food security and crop protection. Joint appointments and new PhD studentships across the two organisations will also help bring a unique breadth of expertise to bear on current concerns around food security.
The new institute will benefit from the unique facilities at Newcastle University's research farms – Cockle Park and Nafferton – as well as state-of-the-art food testing facilities at the University's Human Nutrition Research Centre. Initial priority themes will be:
• Agri-food production and protection, improving the productivity and health of our crops and livestock
• Agri-tech diagnostics and biosecurity, to develop precision approaches and smart surveillance systems help protect agriculture and the natural environment from pests and pathogens
• Food safety and health, ensuring our food and feed is safe and nutritious and that our supply chains are resilient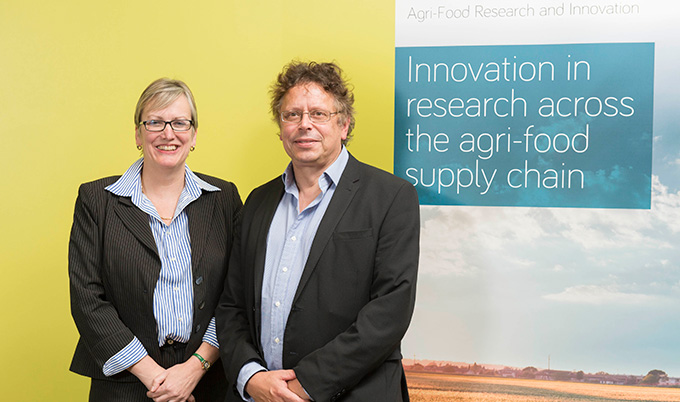 Sustainability and land use
Cutting across these themes will be an emphasis on sustainability and land use. All research carried out within the institute will be interdisciplinary, involving natural and social scientists working together to identify areas for research and to carry out the work.
Director of IAFRI Professor Rob Edwards said: "This is a truly unique endeavour. IAFRI will bring together academic and research excellence from across Newcastle University, from the School of Agriculture, Food and Rural Development, from Biology, Medicine and Engineering and beyond. It will marry this with the experience that Fera brings both in research and in applying research to real world problems. We will harness this breadth of experience and expertise, in both natural and social sciences, to address issues throughout the length of the food chain.
"An interdisciplinary approach is already a great strength of our research here at Newcastle. Just as importantly, we have well established links with the agricultural and food industries which underpin our activities, provide complementary expertise from a very practical perspective and give a helpful focus to our endeavours.
"Drawing upon all of these assets, IAFRI will be in an unrivalled position to support food security nationally and globally, throwing light upon every aspect, from food production and its environmental consequences, to the implications, both personal and societal, of the choices that consumers make every day as they fill their supermarket trolleys."
Delivering innovation in research across the agri-food supply chain
Hilary Aldridge, CEO of Fera Science Ltd, said: "We are delighted that the formation of this joint venture delivers a complimentary platform for Fera's unrivalled position as an organisation working with the private and public sectors and the academic and research elements of Newcastle University to develop world-leading translational science.
"I look forward to seeing IAFRI's' vision of delivering innovation in research across the agri-food supply chain being achieved as a result of bringing together the best multidisciplinary talent in the social and natural sciences. The output of which will be to drive new solutions, techniques, skills and best practice in the agri food and associated environmental sector to develop innovative solutions that will benefit society as well as driving economic growth for not only the medium but also the long term."
The launch event took place at Newcastle University London and was attended by Professor Ian Boyd, Chief Scientific Adviser to the Department for Food and Rural Affairs, as well as representatives from Research Councils UK, other funders and industry contacts.
---
Latest News