Research into post bone marrow transplant complications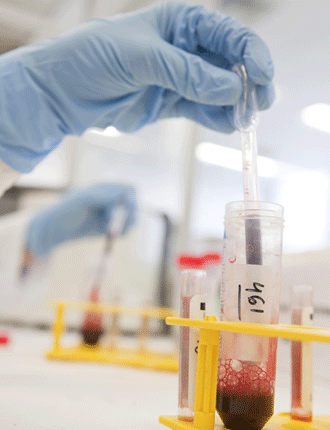 Scientists at Newcastle University have been awarded more than £250,000 to investigate why some patients develop an important complication following a transplant.
The grant, awarded by leading blood cancer charity Bloodwise, will be used to research ways to limit graft versus host disease (GVHD) – a process where the donor's immune cells attack the transplant recipient's body. This can affect vital organs and is potentially life-threatening.
For many blood cancer patients, a 'stem cell' or 'bone marrow' transplant, using donated stem cells from another person - who must be a tissue match - is the only curative option. Finding a match can take a considerable length of time, and the success of stem cell transplants is limited by GVHD.
Professor Matthew Collin, Dr Amy Publicover and Dr Lucy Walker, who are based at the Institute of Cellular Medicine at Newcastle University, will investigate a class of white blood cells, known as innate lymphoid cells (ILCs). These regulate immune responses in tissues, by producing cell signalling molecules called cytokines. Cytokines help communication between cells in immune responses, and stimulate the movement of cells towards the site of infection or inflammation.
The researchers will measure ILCs in stem cell donor tissue, and in the blood and tissues of transplant patients. Ultimately, the project aims to provide strong evidence that a specific cytokine, IL-22, can be used for treating patients who develop GVHD.
Professor Matthew Collin said: "The death rate for GVHD patients who do not respond to steroids is very high. No study has yet examined ILCs in human tissues affected by GVHD and we are very excited to see what the results will show."
Dr Matt Kaiser, Head of Research at Bloodwise, said: "We have worryingly limited treatment options for GVHD. The project at Newcastle University will really further our understanding of why some transplants lead to these serious complications. If shown that IL-22 can reduce GVHD and this effect can be transferred to the real world, this could be life-altering for many blood cancer patients who have to undergo transplants using donated stem cells."
Last month, Bloodwise launched the UK's biggest blood cancer awareness campaign. Nearly 3,000 billboards appeared across the UK in response to a crisis in awareness of the group of diseases, which includes leukaemia, lymphoma and myeloma.
Bloodwise is the new name of the UK blood cancer charity Leukaemia & Lymphoma Research, which was founded in 1960. The new name was chosen to reflect the charity's work for patients with all blood cancers, and unites everything being done to beat them, from world leading research and thought leadership to patient support services.
Press release courtesy of Bloodwise
published on: 14 October 2015