Smoking in cars with children banned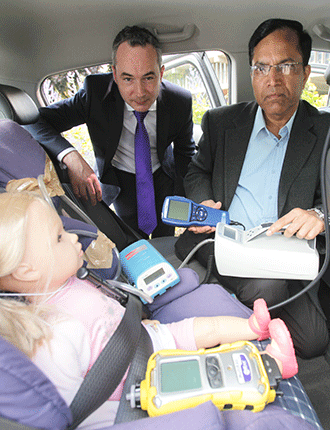 Smokers are being given one more reason to quit as new laws come into force which make it illegal for anyone to smoke in vehicles with children present. The new law is designed to help protect children from the dangers of secondhand smoke. 
Under the ban both the driver and the smoker can be fined £50 if anyone smokes in a vehicle with a person who is under 18.
Newcastle University, Public Health England and Fresh Smoke Free North East conducted an experiment to highlight the dangers of exposure to secondhand smoke in vehicles. This tested the levels of dangerous chemicals (fine particles known as PM2.5) to which children can be exposed in the back seat of a car when a driver is smoking.

Despite what people might think, opening the car windows does not remove the harmful effects of secondhand smoke. The experiment showed that even with the window open, levels of dangerous chemicals were more than 100 times higher than recommended safety guidelines.
When the windows were closed and the fan on, levels of chemicals were more than 200 times higher than safety guidelines. Furthermore, the amount of the poisonous gas Carbon Monoxide (CO) was two to three times higher than on a busy road at rush hour.
Over 80% of cigarette smoke is invisible, and parents can be unaware of the exposure to which children are often subjected, particularly in enclosed spaces such as vehicles. Children are particularly vulnerable as they breathe more rapidly and have less developed airways and immune systems.
Health risks
Secondhand smoke is made up of over 4,000 chemicals, more than 50 of which cause cancer. Approximately three million children in England are currently exposed to secondhand smoke in a vehicle, which puts them at risk of serious conditions including meningitis and respiratory infections such as bronchitis. Exposure to secondhand smoke results in over 300,000 general practice consultations and an estimated 9,500 hospital admissions in the UK each year.
A recent survey by YouGov and ASH revealed that ending smoking in cars with children is supported by 88% of adults from North East households.
Lisa Surtees, Acting Director of Fresh, said: "It is really important we give children legal protection from smoking in cars.
"Most smokers nowadays avoid smoking around children, but a significant number of children are still exposed to smoke which contains harmful poisons like carbon monoxide and arsenic and puts them at increased risk of meningitis and respiratory infections.
"This law is incredibly popular with 88% of adults in the North East supporting it. We also expect it will be largely self-enforcing, as with the smoke free law in 2007. It will bring major health benefits as many more people will realise this law is for a very good reason, and protect their children."
Newcastle University's Dr Anil Namdeo (pictured right), who heads up the Transport Research team, and who led the experiment, explains: "People think that by opening the window they are clearing the air, but what actually happens is the air is sucked in from outside and pushes the smoke backwards, straight towards the passengers in the back seat.
"Within minutes of the driver lighting up we saw a rapid increase in the levels of these harmful chemicals – fine particles known as PM2.5 – not just around the driver but also around the child's car seat. With the window closed the levels peaked at several hundred times the safe limit but even with the window open we saw a significant rise to well above the safe recommended limits."
Dr Malcolm Brodlie (pictured left), Clinical Senior Lecturer at Newcastle University and Honorary Consultant in Paediatric Respiratory Medicine at the Great North Children's Hospital, part of Newcastle Hospitals NHS Foundation Trust, said: "Breathing in secondhand smoke is harmful to anyone but children are especially vulnerable as their lungs are still developing.
"We see the effects of this on hospital wards too often. Babies and children who breathe in smoke are more likely to have problems with asthma attacks and chest infections, and need more hospital care and doctors' appointments.
"This new data really hits home the harm that can be caused by smoking in a confined space such as a car and highlights the importance of this new law in protecting children against the effects of secondhand smoke."
Landmark legislation
Professor Dame Sally Davies, Chief Medical Officer said: "This legislation is a landmark in protecting our children from secondhand smoke. Smoking just a single cigarette in a vehicle exposes children to high levels of air pollutants and cancer-causing chemicals like arsenic, formaldehyde and tar, and people often wrongly assume that opening a window, or letting in fresh air, will lessen the damage.
"I hope that all smokers, but particularly drivers and parents, will use the change in law as an opportunity to take the first steps towards quitting. With the laws coinciding with the start of Stoptober, there is no better time to quit and take advantage of the free support on offer."
Professor Kevin Fenton, National Director for Health and Wellbeing for Public Health England added: "Over 80% of secondhand smoke is invisible and odourless. Many parents aren't aware of the high levels of dangerous chemicals that their children are subjected to if they smoke near them, especially in enclosed spaces. This experiment unearths shocking data, reinforcing that smoking in vehicles with a child is never safe. Even with the windows down you are still putting your child at risk of developing serious health conditions."
Dr Penny Woods, Chief Executive of the British Lung Foundation, said:"With the ban on smoking in cars carrying children coming into effect today, we've stopped playing catch-up and can now stand tall beside other countries as a trailblazer for public health.
"After years of campaigning by organisations and individuals for this change in the law, hundreds of thousands of children will now finally be protected from the harms of second-hand smoke. Today is truly a cause for celebration for all those who care about protecting the health of generations to come."
Deborah Arnott, chief executive of health charity ASH, said: "Making it illegal to smoke in cars with children is supported by the vast majority of adults, including smokers, who recognise the harm caused by secondhand smoke. But despite the level of public support some adults still smoke in front of children, we hope the legislation will make them realise they should stop, not just in their cars but also in their homes."
Stoptober
Smokers wishing to quit are encouraged to take part in Stoptober, the country's 28-day mass quit attempt from Public Health England, which also begins today. Those taking part will receive free and exclusive support every step of the way from top comedians Bill Bailey, Al Murray, Shappi Khorsandi and Rhod Gilbert. Stoptober is based on research that by stopping smoking for 28 days you are five times more likely to stop for good.
To sign up to the nation's biggest mass quit attempt and the thousands of people all quitting together visit Stoptober online.

Watch a video of the experiment that highlights the risks of secondhand smoke in vehicles.
Read the full report - An investigation into the Personal Exposure to Cigarette Smoke in Cars:An experiment conducted by Newcastle University for Public Health England in conjunction with Fresh North East.
published on: 1 October 2015