Sugata Mitra to open first SOLE lab in America
Sugata Mitra to open first SOLE lab in America
Published on: 14 October 2015
A school in Harlem has created the first American research lab - SOLE NYC - dedicated to exploring self organised learning environments.
Self-taught learning
Prof Mitra developed the concept of self-taught learning following his 'Hole in the Wall' experiments, in which he placed a computer in a wall of an Indian slum and observed as children taught each other subjects from English to programming.
As the 2013 recipient of the $1 million TED Prize, Prof Mitra used the award and community's resources to expand this work and create a structure in which children are guided to teach each other. He has since created seven School in the Cloud learning labs in India and the UK, testing the extent to which children – in small groups, with access to a computer, and when prompted by the right questions – can essentially learn on their own.
John B. Russwurm PS 197M, ranging from Pre-K to 5th grade (4 to 13-year-olds), has embraced this new approach to learning and today (Oct 14) SOLE NYC will officially become the eighth School in the Cloud lab.
The Harlem Lab is being funded by Newcastle University, where Professor Mitra is director of the global hub for research and practice into SOLEs: SOLE Central.
"My wish has always been to support children around the world by tapping into their innate sense of wonder and ability to teach themselves," said Prof Mitra. "While there are already SOLE labs in India and the UK, I've dreamed of it expanding to America. It is truly wonderful that this SOLE lab will be in New York –TED's backyard – where there is so much innovation in learning."
The plan is for classrooms at PS 197M to cycle through the SOLE lab so that there is a session happening at all times (4+ sessions a day).
"Since implementing the SOLE program at our school, there has been a positive shift in instructional practices and the way teachers view how students learn," said principal Natasha Spann. "They see the advantage of allowing students to be accountable for their own learning.
"With meaningful planning of questions aligned to the standards, the stage is set for guaranteed imaginative learning. I am amazed at the level of collaboration and productivity from the students."
Lead researcher and Newcastle PhD student Natalia Arredondo was an integral part of setting up this lab and will be based at the school to oversee SOLE and complete evaluations. Her areas of focus include:
Reading comprehension
Social skills
How young students navigate Big Questions
"The TED Prize is a forward-looking prize," said Anna Verghese, Director of the TED Prize. "Since 2013, we worked with Sugata as he launched a wish and – with the support of a remarkable coterie of TED's partners – turned that wish into reality. That Sugata's TED Prize has landed here in New York, at PS 197M in Harlem, is a remarkable moment. By expanding how we teach and learn in the 21st century, we can find innovative ways to help create a new generation of thinkers."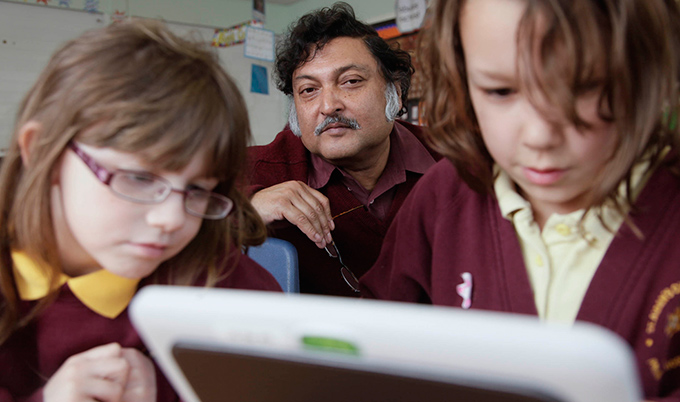 About SOLEs
Prof Mitra's SOLEs are spaces in which educators spark curiosity by asking children to explore a 'Big Question' using the Internet and working together in small groups. Learning happens spontaneously in these more fluid and open environments.

Since launching his TED Prize wish, the SOLE toolkit has been downloaded more than 67,000 times and thousands of SOLEs have taken place (1,500 in Cleveland alone, for instance, in the past three months). Skype Grannies are 'beamed' into SOLEs all over the world, where these admiring and encouraging adults help to boost children's skills and confidence levels. They are now involved at 14 physical locations around the world.

Critical to mobilizing this effort has been the School in the Cloud online community, created through a committed group that came out of the TED 2013 conference where Prof Mitra first shared his vision. Microsoft and its Skype Social Good team provide core technology for the platform.

The following resources have been created for educators and learners:
Seven research labs – two in the UK and six in India (including the flagship learning lab – Area Zero – in Gocharan, West Bengal)
A downloadable SOLE tool kit
SOLE Central, an interdisciplinary, global hub at Newcastle University for research and practice into Self-Organised Learning Environments (SOLEs), bringing together researchers, practitioners, policy makers and entrepreneurs from across the globe
About the TED Prize
The first TED Prize was awarded in 2005, born out of the TED Conference and a vision by the world's leading entrepreneurs, innovators, and entertainers to change the world – one wish at a time. What began as an unparalleled experiment to leverage the resources of the TED community has evolved into an ambitious, million-dollar award to spur global-scale change.
---
Latest News