Using people power to transform our streets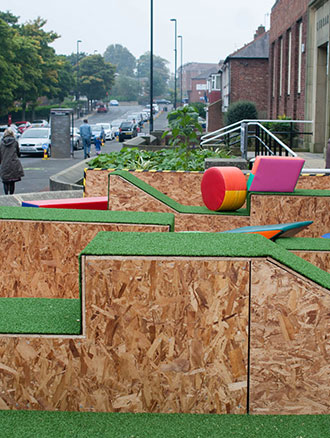 A Newcastle street was transformed this weekend, trialling some of the ideas proposed by residents to make the area more people friendly.
Academics from the School of Architecture, Planning and Landscape have joined forces with Sustrans and Newcastle City Council and have been working closely with the community around Fenham Hall Drive, to get their input on how the area could be improved.

As a result the space between Fenham Library and Pool was temporarily transformed into an area to be enjoyed by all, including a place to play, somewhere to sit and chat with neighbours and a pop-up café providing refreshments.

Those travelling to, and through, the space also benefited from a temporary cycle lane providing a safe experience for people walking and riding bikes.

This clearly marked lane was free from parked cars due to the suspension of pavement parking for the event, which ran from Saturday 3 October to Monday 5 October.

The Newcastle DIY streets project aims to work closely with local communities to help them to redesign their neighbourhood affordably, putting people back at its heart and making it safer, more attractive, and more conducive to walking and cycling.

Newcastle University lecturer Armelle Tardiveau said: "The space between Fenham Library and Pool has been identified by local people as a potential community hub, and keen residents have come forward to work with us on enhancing the area.
"The temporary public space has engaged a wide group of residents in the project as well as demonstrated the potential of this space for the community. Given the overall enthusiasm and the fun that people have enjoyed this weekend, we will carry on working closely with residents, stakeholders and local councilors to envisage the next step and life of this temporary project."
Sustrans Officer Kieran McSherry said: "It's been great working with the local residents and our partners from the Council and University to create a vision of what this area could be like if it was centred around the people that use the space."
Fenham Cllr Marion Talbot added: "It's been a great way of engaging with the community to discuss how we can improve the space and make it more accessible and safe."
Published with thanks to Sustrans.
published on: 8 October 2015