Funding boost for enterprising students
Funding boost for enterprising students and graduates
Published on: 11 November 2015
A leading City investor has given a major boost to budding entrepreneurs from Newcastle University with a £250,000 fund to support their startup ideas.
Peter Smedvig, Chairman of the Smedvig Group, and a Newcastle University graduate himself, has funded the university's Founderships Programme, which offers recent graduates and students support and funding to help them commercialise their innovations. Several of Peter's fellow Newcastle University graduates also supported the start-up programme.
The gift will enable Newcastle University to extend the successful Founderships pilot, which was launched in 2014 as a pre-accelerator designed to remove many of the barriers that new entrepreneurs face when starting a venture.
Following Peter's backing, the scheme will be called the Glitretind Founderships Programme.
Named after the second-highest summit in Norway, the Glitretind Founderships will support 11 graduate entrepreneurs to develop seven new start-ups, providing each venture with a cost of living stipend and £10,000 business development grant.
Peter said: "We are delighted to be supporting future business talent from Newcastle University. These people have demonstrated true entrepreneurial spirit to get their start-ups to this point. However, this is the start and the easy part, success will come through hard graft and inventiveness. If at the outset it does not work: Change it! Never give up!
"Programmes such as Glitretind Founderships make a real difference for students and graduates who have a business idea and are working hard to turn it into a successful business venture, and I would encourage others to support such initiatives."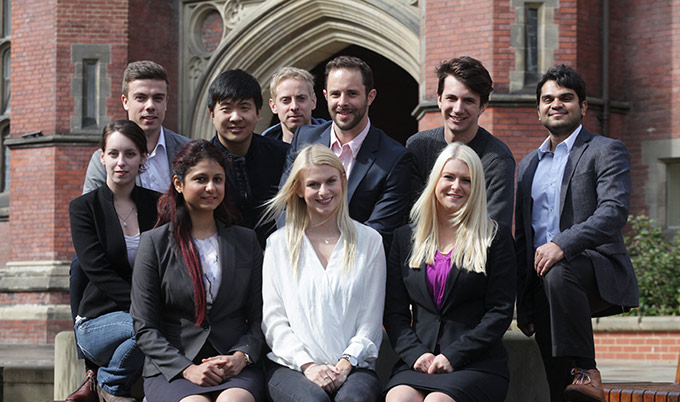 Support for entrepreneurs
Launched as part of Newcastle University Careers Service's Rise Up support programme for student and graduate entrepreneurs, Glitretind Founderships helps graduates by offering them a comprehensive support package for six months. The package includes work space, advice, access to networks and funding.
Katie Wray, Lecturer in Enterprise at Newcastle University, is the Programme Manager of Founderships. She said: "We are very grateful to Peter for his generous support. The funding will help us continue nurturing entrepreneurs during the complex early stage of startup. It will also go a long way towards encouraging our alumni to create thriving businesses which can positively impact the local North East economy."
"The Glitretind Founderships fund will also help us to build on the legacy of our 2014 pilot programme, which was successful beyond the normal market expectations of a pre-accelerator programme. Four of the five startups from 2014/15 are now running registered companies, with formalised support externally."
Glitretind Founderships participants
The seven startups making up the 2015 cohort of Glitretind Founderships encompass a wide-range of industries: from hospitality and residential care, through to energy storage solutions and detox products.
One of the business projects supported by the programme is Chronicles VR, an innovative museum experience which allows visitors to experience entire scenes from the past through Virtual Reality.
Partners Dominic Deane and Rachel Derbyshire came up with the idea to bring the culture and education sectors alive by pioneering and adapting the emerging technology of Virtual Reality. The duo creates 3D models of objects in museums, which allow visitors to explore artefacts in their original context by wearing a 3D headset.
Dominic said: "The Glitretind Founderships Programme gives a unique incubation period to Chronicles VR. A as a virtual reality design studio we are at a juncture of uptake for the virtual reality sector and being able to grow and refine our business offering over this six month period is invaluable to being a first mover in our sector.
"By taking part in the programme, we are expecting to gain a huge amount of knowledge and experience that could only be achieved through the capacity to make mistakes and learn from them. Whilst learning as a business and individuals we expect to have built up a client base from which we can become a provider of beautiful and meaningful virtual reality experiences."
For further details on the Glitretind Founderships and how to support entrepreneurship at Newcastle University please contact Rachel Bickerdike.
---
Latest News