Martin Luther King anniversary celebrations launch
Celebrating the anniversary of Martin Luther King's visit to Newcastle
Published on: 13 November 2015
Newcastle will take centre stage in 2017 when it hosts a city-wide programme of events celebrating the 50th anniversary of Dr Martin Luther King visiting Newcastle University.
Freedom City 2017
Plans for the festival, called Freedom City 2017, were launched at a special event for community groups, cultural organisations, Newcastle and Gateshead local authorities and other partners who will be involved in the two year programme.
The event was also attended by His Excellency Matthew Barzun, the US Ambassador to the UK, who paid a special visit to Newcastle to hear about the preparations being made for the celebrations.
On 13 November 1967, Newcastle University gave Dr Martin Luther King an honorary degree – the only UK university to do so during his lifetime. Remarkably, Dr King took time to visit the University to receive the award. Unusually, he then gave an acceptance speech, during which he spoke of his struggle for racial justice and the challenges in overcoming war, poverty and racism.
Drawing on these themes, the Freedom City 2017 programme will aim to bring Dr King's legacy to life through special events, talks, exhibitions, art works, and performances. The project will involve schools, artists and voluntary groups from across the city, as well as academics from Newcastle University and a host of partner organisations.
Ambassador Matthew Barzun said: "We are honoured to be a part of this journey. In his acceptance speech, Martin Luther King, Jr. talked about how we are all linked 'in an inescapable network of mutuality'. This could not be more true of the relationship between the U.S. and the North East. As Freedom City moves forward we have the opportunity to be more networked, more inclusive - we are eager to be a part of it."
Professor Chris Brink, Vice-Chancellor of Newcastle University, said: "Almost 50 years on, the 'great and grave problems' of war, poverty and racism that Dr King spoke about during his speech remain as relevant today as they were in 1967.
"The idea of social justice for all was shared by many in Newcastle at the time, and is what we aim to encompass today in our mission to be a civic university. It is therefore appropriate that everyone in the city will have an opportunity to take part in some way in the celebrations to mark this special anniversary."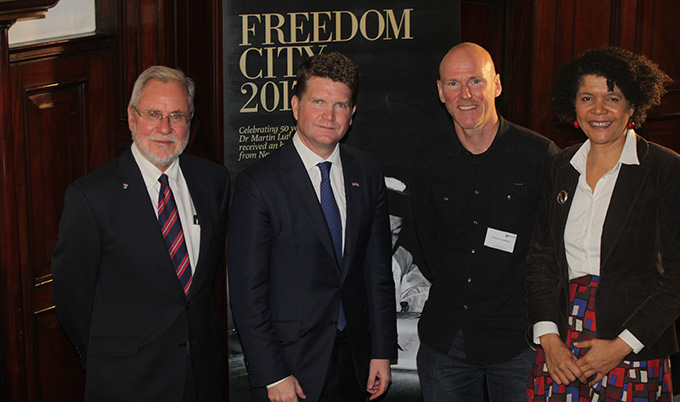 City-wide celebrations
Among the activities taking place will be a brand new exhibition at the Great North Museum: Hancock, and a special pack will also be developed for use by schools to encourage pupils of all ages to think about Dr King's visit to Newcastle and his speech.

As part of the planned celebrations, a new sculpture of Dr King has been commissioned and will be installed on the Newcastle University campus. Nigel Bonham, who will create the new artwork, said: "The opportunity to make a bronze statue of Martin Luther King Jr is a rare chance to portray one of the most significant figures of the 20th century. It will be a thrilling prospect to use my skill to help celebrate Dr King's extraordinary visit and speech in Newcastle. I hope the statue will, in some small way, continue the movement of equality for all, and I look forward very much to working in collaboration with Newcastle University to realise this project."
Inspiring generations
The two year programme will culminate on 13 November 2017 with a formal commemoration event in the King's Hall at Newcastle University – the location for Dr King's honorary degree ceremony in 1967.
Chi Onwurah, MP for Newcastle Central, added: "When Newcastle University decided to honour Dr King, he chose to come here because we shared a vision of social justice, a world without war, poverty and racism. Freedom City 2017 will celebrate that vision and in so doing inspire generations to help build that world, here in Newcastle and beyond."
Details of the full programme of Freedom City 2017 events will be confirmed over the next few months. To keep up to date with what's planned, visit the Freedom City 2017 website.
Watch the Martin Luther King honorary degree ceremony.
---
Latest News