Showcasing student-led research projects
Published on: 16 November 2015
A special event will take place at Newcastle University this week to showcase a range of new student-led research projects.

The event will include presentations from five students who have been supported by the Newcastle University Research Scholarships and Expeditions Programme. The scheme helps students to work alongside academics on research projects, or to undertake their own field research in other countries.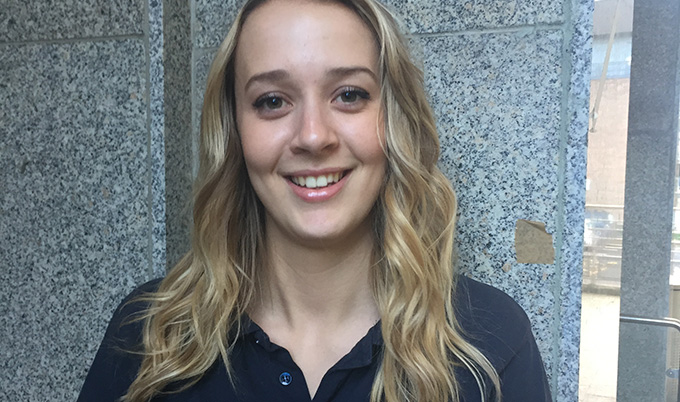 Memory and identity
Among those presenting will be BA (Hons) Politics and History student Becky MacDermid, who looked at a little-known episode in the history of the Irish community on Tyneside.
Her research focussed on the period from 1912 to 1922, which was one of the most eventful in Ireland's history and which had repercussions throughout Britain, including the North East. This period, now known as the Decade of Centenaries, saw growing tensions in the Anglo-Irish relationship.
Around 1921, a standalone organisation emerged, the Tyneside IRA. At its height, there were 480 men across the North East enlisted as members, and Becky discovered instances of members in Consett, Newcastle, Wallsend, Jarrow and Stockton. The group carried out activities such as setting farms and warehouses on fire and disrupting communications.
The men were all from Tyneside, and many of them had served in the British Army during World War 1. Becky explains: "The common memory from that time is of the Tyneside Irish Brigade, part of the Northumberland Fusiliers, and the role they played during World War 1 fighting as part of the British Army. So it's intriguing that just a few years later some of these men were compelled to take action against the British."
As part of her research, Becky spent time with Century Ireland, an online historical news website based in Dublin. Becky adds: "There is a real push in Ireland to learn more about events during the Decade of Centenaries. It was a dynamic and complex period, and my time at Century Ireland gave me a really useful insight to presenting historical information to the public. The events on Tyneside highlight a conflict of identity for a significant group, and I hope my presentation can help shed more light on this fascinating period of history."
Broad range of academic interests
Becky will be joined by other students also presenting their research at the event, reflecting the broad range of academic interests across all three of the University's faculties. Abbi Bennett was part of a team of six Newcastle University students who spent five weeks in Greenland this summer. The group got the rare opportunity to carry out research on the Russell Glacier, on the west coast of Greenland, to better understand how the glacial environment is being affected by climate change.
Katie Smith, studying history and Spanish, spent four weeks in the Chubut valley, in Patagonia, Southern Argentina, carrying out research on the recent revival of Welsh culture that has occurred there. One hundred and fifty years ago, a group of around 150 Welsh men, women and children, arrived in Chubut province and became the first permanent settlers there. This year's anniversary of Y Wladfa (The Colony) has sparked a year full of celebrations and commemorations in both Wales and Argentina, strengthening once more their transatlantic link and a resurgence of Welsh culture in Chubut province.
BSc Biology student Elliot Atkins conducted research on plants such as cacti and aloe that survive in arid conditions. These plants carry out photosynthesis at night to reduce water loss, and Elliott's research looked at whether the plants have an ability to tell the time, a 'metabolic dusk', governed by the amount of starch in their leaves. And Abigail Lowe looked at care processes and clinical outcomes in pregnancy complicated by diabetes. Her work has already led to a further study to investigate the growth patterns of babies whose mothers experience Gestational Diabetes.
Professor Suzanne Cholerton, Pro-Vice-Chancellor (Learning & Teaching) at Newcastle University, said: "Since its launch in 2007, the Research Scholarships scheme has become established as an important platform for students to showcase their research.
"By carrying out their own investigations and gaining real experience of different research methods and techniques, these Scholarships not only increase students' knowledge of what research is like they also help them develop useful skills such as problem solving and critical thinking that will help them throughout their academic career and beyond."
The event is free to attend, and takes place in the Curtis Auditorium of the Herschel Building from 5.30pm until 7.30pm on Wednesday 18 November. Posters with more information about all the projects will be on display in the Lindisfarne Room from 4.30pm.
---
Latest News