University announces Vice-Chancellor's retirement
University announces Vice-Chancellor's retirement
Published on: 25 November 2015
Professor Chris Brink, Vice-Chancellor of Newcastle University since 2007, is to retire at the end of December 2016.
The South African-born Professor of Mathematics joined Newcastle from Stellenbosch University in the Western Cape. As its Rector and Vice-Chancellor he was credited with leading a transformational project that put teaching quality, diversity and research for public good at its heart. He also initiated, with the city's Mayor, a town-and-gown collaboration called 'Reinventing Stellenbosch' aimed at overcoming the divisions of the apartheid era.
Bringing the same vision and values to Newcastle, Professor Brink, 64, has championed the vision of a world-class civic university, ensuring that the institution's research and teaching are focused on tackling some of the major challenges facing global society today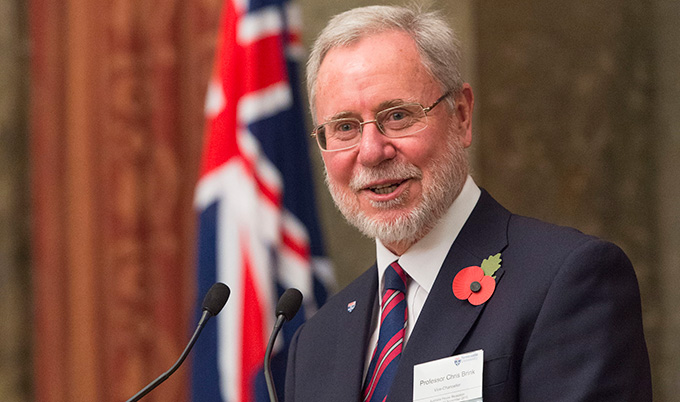 Professor Chris Brink leaves lasting legacy in a city shaped by science
Through his leadership, the University is now world-renowned for its work in addressing the challenges of ageing, sustainability and social renewal with notable achievements including the Government's backing for a new National Centre for Ageing Science and Innovation in Newcastle and Science Central, a 24-acre development in the city which is a test-bed for urban sustainability research.
At a national level, Prof Brink has made contributions both on quality and on equality, having served on the Boards of the QAA and the Equality Challenge Unit (which he also co-chaired). He also served on the Board of Universities UK, where he chaired the Student Policy Network, and on the Leadership, Governance and Management Strategic Advisory Committee of HEFCE. Locally he has served on a number of regional Boards, including as founding Board member of the North East Local Enterprise Partnership. He has delivered many keynote addresses at conferences on Higher Education across the world.
A logician who gained his PhD from Cambridge, Prof Brink held academic posts in the University of Cape Town and the Australian National University before he was appointed as Pro-Vice-Chancellor (Research) of Wollongong University in Australia in 1998. In 2002 he joined Stellenbosch University before moving to Newcastle in August 2007.
His commitment to the University's role in regenerating the city of Newcastle has also been a hallmark of his leadership as Mark I'Anson, Chair of Newcastle University's governing Council, explains: "Chris Brink has pioneered huge change, not only in the University, but also in the city. The University's partnership with Newcastle City Council to develop Science Central from a former derelict site to an exemplar of urban sciences and digital technology, creating jobs, new business and academic excellence, is a very visible example of his vision.
"His desire to improve the Newcastle campus and its facilities for staff and students and to make it more open to the people of the city is also plain to see.
"Chris's drive to ensure the University's research and teaching makes a difference to people's lives has been equally tangible. His two questions of: 'What are we good at?' and 'What are we good for?' has characterised his leadership at Newcastle and is in evidence in all that we strive to do.
"Chris has now initiated an ambitious programme of investment in the University's research capability. 'Raising the Bar' is a multi-million pound initiative to develop the academic strengths of the institution, supporting existing staff by providing new funds and facilities and also to recruit new researchers and PhD students. Chris will continue to champion this crucial project throughout next year."
A philosophy of excellence with a purpose
During 2016 Professor Brink will also be focussed on overseeing important developments at Newcastle's international campuses. These include the first year of the University's new London campus, building the research activity of its Singapore operation and its medical school in Malaysia and finalising Newcastle's partnership with Xiamen University in China.
Professor Brink said: "The University is in a very strong position. We have more students choosing to study at Newcastle than at any other time in our history and our students overwhelmingly value their time here.
"I am immensely grateful to the students, staff and lay members of the University. I am proud to have served and to continue to serve as Vice-Chancellor. This is an outstanding University and its success is down to the efforts of its staff, the calibre of its students and the engagement of our governing body and other lay supporters.
"Our finances are in good shape which means we can, and have been, investing in improving our facilities to benefit both students and staff. We have also fostered a culture that allows us to be ambitious and to pursue new opportunities such as our overseas campuses and our latest venture in London.
"On the research front, we have grown our annual research income to over £100m and improved our position in the Government's recent assessment of research quality, the Research Excellence Framework. The Raising the Bar programme will build on this success by investing in our academics and ensuring we have a pipeline of talent that can secure our world-class status in the future.
"Over recent years we have seen huge changes in the Higher Education landscape and I believe we have risen to the challenge and will continue to do so. For example, I am confident that our sustained focus on quality in learning and teaching places us well to respond to the Government's aspirations for teaching excellence as outlined in the recent Green Paper.
"Underpinning all our work at Newcastle has been a philosophy of excellence, but excellence with a purpose, and I am looking forward to seeing this come through in the initiatives we have underway for 2016."
Recruitment for Professor Brink's successor will begin in the New Year.
---
Latest News