Zero-power metal mine water treatment
Europe's first of a kind metal mine water treatment scheme
Published on: 20 November 2015
An innovative treatment works using the natural environment to clean metal-rich water from an abandoned mine has been opened by Water Minister Rory Stewart in Cumbria today.
Set in the breath-taking Cumbrian hills near Keswick, the Force Crag mine water treatment scheme is now up and running. The scheme will clean up a 6 mile stretch of river, preventing up to a tonne of metals, including zinc, cadmium and lead, from entering Bassenthwaite Lake each year.
The scheme will contribute up to £4.9 million in environmental benefits to Keswick's water and wildlife while boosting tourism and the local economy.
Funded by Defra, the scheme is part of the Government's £8.5 million investment in low-cost solutions to tackle water pollution caused by abandoned metal mines that pollute over 1000 miles of rivers in England.
The concept was developed by Dr Adam Jarvis and his team at Newcastle University and delivered by the Coal Authority in partnership with the Environment Agency, the National Trust, the Lake District National Park Authority and others.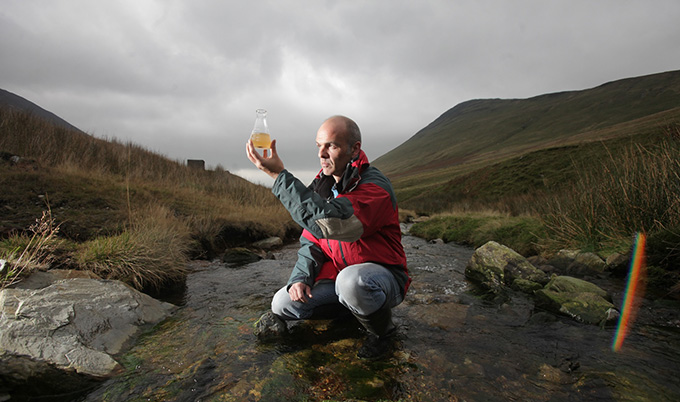 Solutions to tackle mine water pollution
Water Minister Rory Stewart said: "I'm delighted to be here today in the incredible Cumbrian hills to open Europe's first treatment scheme, using the natural environment to clean metal-rich water from the Force Crag abandoned mine. This will improve local water quality while still maintaining the beauty of this truly unique site.
"This project is part of Defra's £8.5 million investment in solutions to tackle mine water pollution and an excellent example of partnership working with Defra, the Coal Authority, the Environment Agency, the National Trust, Lake District National Park Authority and others all coming together to bring this world leading scheme to life."
Reader in Environmental Engineering, Dr Adam Jarvis, Newcastle University, said: "Newcastle University's design of the water treatment process at Force Crag followed more than 10 years' research and development, starting in the laboratory and culminating in this unique large-scale treatment system. Working in partnership, it's a great example of undertaking research to resolve a real world problem – pollution from abandoned mines."
Stephen Dingle, Chair of the Coal Authority, said: "Our experts prevent and treat water pollution from Britain's abandoned coal and metal mines, managing over 70 mine water treatment schemes to protect and improve over 350km of rivers. We also prevent important sources of drinking water from being polluted.
"Working with our partners we've now built and are managing our first ever passive metal mine water treatment scheme to address the pollution which comes from Force Crag Mine in the Lake District National Park.
"The scheme has been carefully designed to be consistent with the beautiful surroundings and address this major source of metal pollution, which affects Bassenthwaite Lake and other local watercourses. We are delighted with its excellent performance in removing in excess of 95% of the metals from the mine water."
Improving water quality and biodiversity
Keith Ashcroft, of the Environment Agency said: "We were delighted to be involved in the Force Crag treatment system. Our rivers are the healthiest for 20 years, and we are working hard to maintain what we have achieved so far and to further improve water quality and biodiversity.
"This system is the first of its kind in the Europe and the results of monitoring here will help to design even more effective, sustainable, mine water treatment systems for the 1,700 km of rivers polluted by abandoned metal mines elsewhere in England. Innovations such as this over the next five years will help the Environment Agency to work in partnership to improve another 6,000kms of rivers and 50 bathing waters."
The Force Crag Mine worked for zinc, lead and barytes from 1835 until 1991 and was the last working mine in the Lake District. Now abandoned, it is a Site of Special Scientific Interest, a Special Area of Conservation and a scheduled monument.
---
Latest News