epic introduction to reading books
Performance project provides epic introduction to reading books
Published on: 4 December 2015
Students from Newcastle University have worked with young people in care to put a new spin on an ancient Greek classic in a reading project with a difference.
Exploring themes and stories
Students in the School of English Literature, Language and Linguistics at Newcastle University have worked alongside a group of young people in the care of Gateshead Council to examine the stories in Homer's epic poem, the Odyssey.
By using drama and performance, the 'Reason to Read' project aims to give the group of 10 young people, who range in age from 11 to 16, an introduction to books they might not normally consider reading.
With support from theatre company Cap-a-Pie, the Newcastle University students have led after-school and weekend sessions exploring some of the main themes and events from the Odyssey and their modern day relevance. Following four weeks of workshops and rehearsals the project culminated in a special, closed performance at Northern Stage when the group performed their own interpretation of the poem to an invited audience.
Dr Stacy Gillis, Lecturer in Modern and Contemporary Literature at Newcastle University, explains: "Ever since it was first sung and performed, Homer's Odyssey has inspired countless writers, performers, thinkers and scholars. Many of its themes, such as exclusion, revenge, the role of strangers, community, and the importance of home, are themes to which all of us can relate, and which continue to resonate with audiences hundreds of years after the poem was first written.
"What we've done in these sessions is to focus on the themes and the stories within the larger story. This is a really effective way of breaking down something as major as the Odyssey and showing new readers how exciting the story is."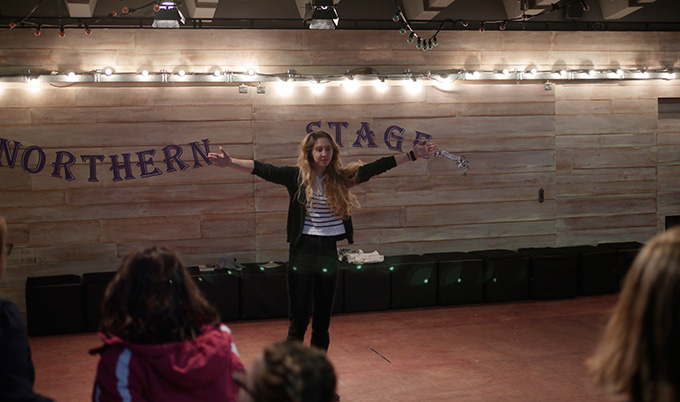 Working and creating together
Believed to have been written down towards the end of the 8th century BC, although reflecting events of some 400-500 years previously, the poem tells the story of Odysseus, and his ten year journey home following the Trojan War. During that time, he is assumed to have died and Penelope, his wife, and son Telemachus must deal with an unruly group of would-be suitors who seek Penelope's hand in marriage.
Meanwhile, Odysseus has to overcome everything from storms that blow him off course, a six-headed monster and the lure of the Sirens' songs to being captured by the Cyclops. He eventually reaches home, but must return disguised as a beggar to avoid being ambushed by the suitors, and has to deal with suspicion and mistrust – not least from Penelope – before eventually being accepted.
The project has been very successful at bringing together university students and young people in care to work and create together. It has provided an opportunity for the students, many of whom are considering a career working with young people, to learn about creativity and the role of the theatre in education, in addition to giving them practical experience of working with children in care. It has been a new experience for both the students and young people in care, and which many have found to be a positive one.
Kathryn Norton, who is in the third year of her degree in Classical Studies and English, explained: "I have thoroughly enjoyed being part of this project and feel I have learnt some really valuable skills. The project has opened my eyes to a new avenue of theatre work which I had not considered before, and as I start to think about my plans following university I will now be looking to work with projects that have a similar educational ethos and approach to learning."
One of the young people who took part in the project commented: "The project has helped me meet new people. I used to be shy but this has made me feel confident."
The power of theatre
The project follows on from a successful pilot last year, which looked at another epic poem, Beowulf. Plans for the future include a similar project looking at Chaucer's Canterbury Tales and Charlotte Brontë's Jane Eyre.
Brad McCormick, Artistic Director at Cap-a-Pie, added: "The most exciting part of this project, for me, is seeing two quite diverse groups work so well together. In the rehearsal room individuals become one group with a common purpose which is brilliant to watch. It's immensely exciting to see what interests and excites new readers within these ancient texts. Everyone participating in the project has engaged with it with equal energy and enthusiasm.
"This has confirmed to us the power of theatre in engaging with books like the Odyssey and allowing groups to create their own meanings and interpretations through performance."
Councillor Angela Douglas, Gateshead Council's cabinet member for children and young people said: "This project has given some of the most vulnerable young people in our community the chance to read and understand a classic piece of literature which they may not have picked up and read themselves. By working with Newcastle University and Cap-a-Pie, they have been able to see how even though the Odyssey was written hundreds of years ago, the journey and personal challenges the characters face is one which is very relevant to their everyday lives."
---
Latest News