Honorary degree - baroness Altmann
Baroness Ros Altmann receives honorary degree
Published on: 9 December 2015
Baroness Ros Altmann has been awarded an honorary degree from Newcastle University for her work focusing on issues affecting an ageing population.
She is a leading authority on private and state pensions, annuities and retirement policy, and is an older workers champion.
Today Baroness Altmann received an Honorary Doctor of Civil Law degree from Newcastle University at a ceremony at the city's Civic Centre.
Appointed to the House of Lords as Minister of State for Pensions, she has worked hard to promote the needs of an older population.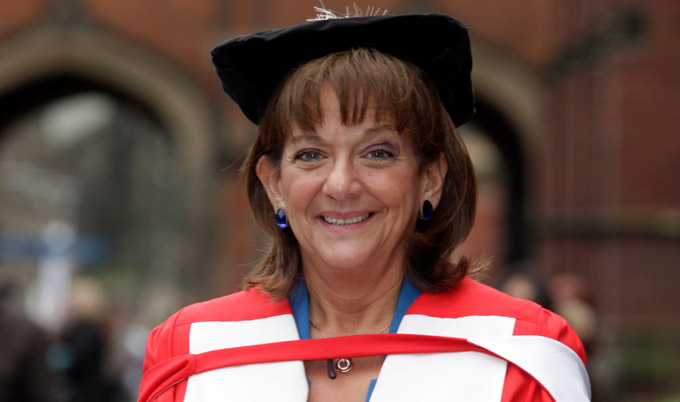 Ageing Societal Challenge Theme
She has received an honorary degree from Newcastle University as her contribution to society is in keeping with the values of the University's Ageing Societal Challenge Theme.
Whilst at Newcastle University, Baroness Altmann gave a public lecture about pensions and an ageing society.
She said: "Throughout my career it has been my ambition to make pensions work better for people and to improve later-life incomes.
"I am proud and delighted to have been awarded this honorary doctorate by Newcastle University and to have the opportunity to deliver a public lecture highlighting the need for a financially sustainable approach to retirement in our ageing society.
"Responsibility for this rests with the Government, employers, the financial industry and of course with individuals themselves. We all need to work together to deliver a better later life for as many people as possible.
"The current pensions revolution represents significant challenges and exciting opportunities for our society and for future generations and this is something that I am passionate about promoting."
Baroness Altmann's achievements
Baroness Altmann has twice been the recipient of the Pensions Personality of the Year Award. She has been an advisor to the International Longevity Centre, the leading think tank on advancing years and demographic change in the UK.
For seven years she campaigned for Government to compensate victims of failed final salary pension schemes, who were facing the loss of their entire pension due to existing legislation.
Her hard work resulted in the Pension Protection Fund and Financial Assistance Scheme which ensures members receive most of their pension if their scheme fails.
Baroness Altmann was instrumental in highlighting the injustices of the annuities market, which culminated in the Government's announcement of the end to quasi-mandatory annuitization of pensions.
She has received the Public Affairs Achiever of the Year accolade for her work as the leading commentator on pensions and other matters affecting the lives of the over 50s.
In 2014, she was awarded a CBE in the Queen's Birthday Honours for services to pensioners and pension provision.
Dr John Hogan, Registrar at Newcastle University, said: "We are proud to honour Baroness Altmann, whose outstanding contribution embodies the values of our societal challenge theme of Ageing.
"Baroness Altmann's campaigning for the needs of older workers and an ageing population has seen policy changes brought about for the better.
"Newcastle University has a long tradition of awarding honorary degrees to individuals who have distinguished themselves in their chosen field – people whose commitment and determination makes a significant contribution to our society."
---
Latest News