Sir John Burn Living North award
Renowned academic recognised for his contribution to the North East
Published on: 7 December 2015
Leading academic Professor Sir John Burn has been honoured for his contribution to the North East through his services to medical research.
Sir John, professor of Clinical Genetics at Newcastle University, has received Living North's Contribution to the North East Award 2000-15.
To scoop the top prize he beat sporting heroes such as Alan Shearer and Steve Cram, along with prestigious figures in the region including the Duchess of Northumberland and screenwriter Lee Hall, best known for his film Billy Elliot.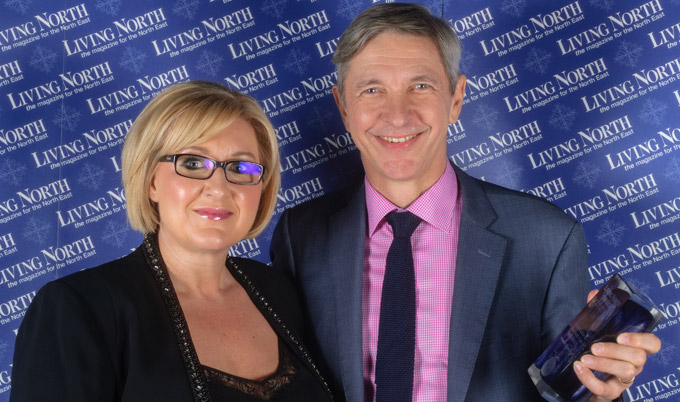 Recognition of pioneering medical research
Sir John, who is also Honorary Consultant Clinical Geneticist at Newcastle Hospitals NHS Foundation Trust, said: "It was a surprise to win this award and I am delighted to receive it.
"I'm proud to be from the North East - I have always lived and worked in the region so to be acknowledged for the contribution I have made to the area is an honour.
"I work with a great team at Newcastle University, Centre for Life, Newcastle Hospitals NHS Foundation Trust and biotech firm QuantuMDx, of which I am chair.
"This award is in recognition of all the teams' hard work and commitment to medical research over the years."
World-leader in genetics
Sir John is a world-leader in genetics and well-known nationally and internationally for his pioneering work.
He is spearheading an international research programme which has proved that aspirin can prevent cancer in people with a high genetic risk. Among his many achievements, he has also been lead English investigator of an international steering committee which identified that taking folic acid during pregnancy could prevent spina bifida.
The Living North Awards is a celebration of the North East and its people. The inaugural awards took place at Newcastle's St Nicholas Cathedral on Friday, November 27. Hosted by North East comedian Jason Cook, there were more than 500 guests in attendance.
Julian West, Living North publisher, said: "The most competitive and significant award of the night was won by Professor Sir John Burn. A huge cheer followed the announcement, not just because of the strength of the other names on the shortlist but also because this was an example of someone performing on a global stage from the heart of the North East in a way that really matters to the future of us all.
"A dedicated, brilliant leader of genetic research in the North East, nationally and internationally, his contribution may not be as well-known as some but his research is perhaps more valuable than any."
---
Latest News