New artworks open up unseen world of military airspace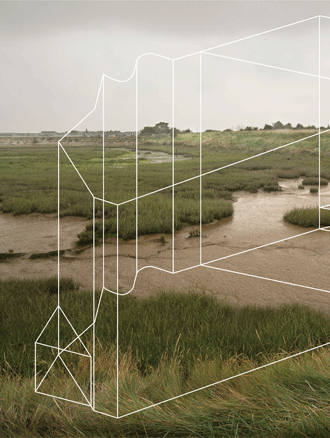 The restricted airspace surrounding locations used in military operations has inspired an artist to bring to life a hidden world of invisible no-go areas.
Artist Matthew Flintham, the Leverhulme Artist-in-Residence in the School of Geography Politics and Sociology at Newcastle University, has created The Martial Heavens, a collection of works which reveal the invisible, dynamic presence of national defence and training and showcases artistic and academic collaborative research.
There are over 70 airspaces across the British Isles, all unique in shape, size and altitude, which are used for military activities ranging from air tactical training, transport and surveillance aircraft, artillery firing, small arms training, and weapons testing. Until now, these vast areas have largely been invisible except on charts - though potentially deadly to civilian aircraft inadvertently entering them.
Over the past year, Matthew has worked with academics to identify and catalogue these spaces using a combination of maps, geographic information system (GIS) software and air traffic service information, and converted the most basic geographic flight data into a collection of visual and sculptural artworks.
Matthew said:
"Rather than looking at visible aspects of military activity such as vehicles, soldiers, architecture and weapons systems, I wanted to reveal the hidden, virtual geometries of military airspaces that are all around us.
"The parameters of military activity are precise: geographical coordinates define and delimit an area of land which is then given a maximum altitude to contain hazardous activities and keep out civilians. I was intrigued by the hidden, three dimensional shapes of military danger these parameters create against the backdrop of picturesque landscapes, and began to think about them as huge sculptural forms."
Matthew visited a number of Danger Areas and military sites around the UK, photographing the landscapes and imagining how we might visualise the invisible geometries of defence and aviation. This led him to build three-dimensional representations of key Danger Areas around the UK, including training sites at Otterburn in Northumberland, Stanford Battle Training Area in the Brecklands and Sennybridge in Wales. These to-scale wireframe models rest on Ordnance Survey maps and resemble large tactical military planning tables.
He also captured digital footage of cloudscapes while on commercial flights across the UK and the English Channel. Over these he has transposed the plan of every single military airspace and Danger Area in the UK, consecutively revealing each one in a linear sequence throughout a seven minute film.
Dr Alison Williams, Senior Lecturer in Political Geography at Newcastle University, and academic lead on the project, said:
"It has been an exciting and stimulating experience to discuss academic research with an artist and to see those ideas being transformed into artworks for public display.
"Seeing the invisible hidden military airspaces I have spent three years researching being made more visible to the public and having the opportunity to take my research beyond just academic audiences has been hugely rewarding."
The Martial Heavens opens at the Ex-Libris Gallery on Friday 9 January 2015 and runs until 30 January. Opening times are 9am-5pm Monday-Friday. A preview of the exhibition will take place between 5pm-7pm on Thursday 8 January.
Pictured is The Wash: High angle dives and loft/toss bombing attacks.
published on: 5 January 2015