Newcastle University chairman takes on a charity challenge in the Alps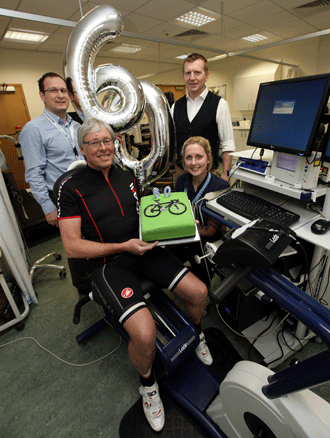 It's not how everyone would want to mark their 60th birthday, but Mark I'Anson - Newcastle University's Chair of Council – today (Friday 23rd) is launching a fundraising drive that will see him embark on a 700km bike ride to highlight the benefits of exercise in later life.
The leading entrepreneur from Northumberland will mark his 60th year by cycling across the French Alps in July, climbing double the distance from sea level to the top of Everest in two weeks.
His mission is to raise funds to support the ageing research carried out at Newcastle University, a world leader in the field and site of the new National Centre for Ageing Science and Innovation announced by the Chancellor of the Exchequer George Osborne in his Autumn Statement.
Newcastle University, through its Institute for Ageing, carries out a wide range of research focused on helping us to live healthier lives, including studies into the impact of physical activity and exercise on healthy ageing.
Mark, from Haydon Bridge, is preparing for the gruelling trek by training in Northumberland.
"This challenge is beyond anything I have ever done before," he said. "While I am not guaranteed to succeed, I'll be happy if I can show that remaining active into older age is a lifestyle choice that we can all easily make. I hope the data that the Livewell team collects at the MoveLab will help assess the impact of extended physical activity and the benefits it can have on quality of life.
"Newcastle University is leading the way in helping people to live better, for longer, and I want the funds I raise to help support this work. In particular, I hope the funding will allow us to bring new researchers and early career academics into this growing field."
Newcastle University research into ageing
As part of the challenge, Mark will undergo a number of tests carried out as part of two of the University's major research programmes - MoveLab and Livewell.
MoveLab, based at Newcastle University, is a specifically equipped gym that brings together doctors, physiotherapists, physiologists, psychologists, designers and engineers to help people live healthier lives and inform best practice techniques.
The Livewell programme, funded by the Medical Research Council, is examining what we can do pre- and post-retirement to improve physical activity and adopt better eating habits to improve the health and well-being of older people.
Led by John Mathers, Professor of Human Nutrition at Newcastle University's Institute for Ageing, the Livewell team has developed a set of tools to measure how healthy the body is as people are about to enter retirement. Livewell researchers monitor indicators such as grip strength, lung function and processing speed in the brain, to assess how well people will age into retirement and what effect physical activity and better eating have on healthy ageing.
Michael Trenell, Professor of Movement and Metabolism at Newcastle University and Director of MoveLab, said: "We applaud Mark's decision to complete this demanding Alps ride. We hope that his initiative will help spread the message that exercising is about much more than feeling good: it protects the body against a range of common diseases and also delays the onset of chronic diseases and promotes health as we grow older."
Mark will be cycling across The Route des Grandes Alpes, from Lac Leman (Lake Geneva) to Menton on the Mediterranean coast. It crosses most of the highest French Alpine Cols climbing a total of around 15,000 meters, equal to riding up Ben Nevis twice a day for a week. The route includes four Tour de France climbs rated HC (Hors Categorie), the hardest.
An actively involved member of the North East business community, Mark is a Director of venture capital company NF Holdings Ltd and a member of the Hotspur Angel Investment Group. He is a Director of several successful international companies which specialise in a range of sectors, from cloud computing through to drug discovery and biomass heating, and is also Chairman of the County Durham Community Foundation.
To get involved and support Mark's fundraising drive, please visit his JustGiving page.
Photo caption – clockwise from top left: Dr Djordje Jakovljevic, Senior Research Fellow (Cardiovascular Physiology); Professor Michael Trenell; Sophie Cassidy, 3rd year PhD student and Mark I'Anson. Courtesy of ncj media.
published on: 23 January 2015