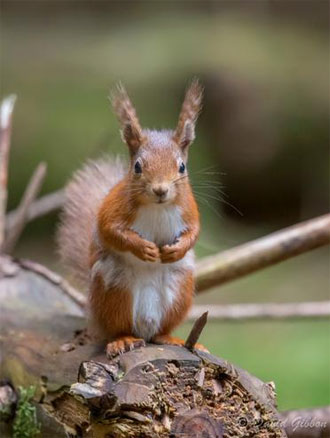 New interactive documentary explores the secret life of our Red Squirrel through the eyes of the public
A unique, interactive documentary is being used to raise awareness of the declining Red Squirrel population in the UK.
Bringing together video, photography, words and song, "Red Tales" has been created entirely from material submitted by members of the public, exploiting our growing obsession with social media to create a living archive of this endangered species.
The research was conducted through The Creative Exchange project, funded by the Arts and Humanities Research Council (AHRC). It was led by researchers at Newcastle University's Open Lab in partnership with Red Squirrels Northern England and conservation charity Wildscreen.
Project-lead David Green, a PhD researcher at Newcastle University and a documentary filmmaker with 15 years filmmaking experience, explains: "Red Tales is the first interactive documentary of its kind, bringing together red squirrel 'stories' from all across the UK and providing a platform for people to engage with them.
"It's a bit like a cross between a traditional documentary, a 'Wikipedia' for red squirrels and a 'Choose Your Own Adventure' novel where everyone's experience is different. Red Tales takes an important conservation issue and provides a one-stop platform where people can contribute content and piece together a story.
"Traditional documentary films can sometimes simplify multiple perspectives by rationalizing them into opposing ideas to help build a single narrative around a subject.
"But with Red Tales, we've borrowed techniques from social media to allow visitors not only a right to reply to the different perspectives in the film, but a voice within the documentary itself.
"The aim is for Red Tales to become a 'living thing' rather than a static piece of non-fiction storytelling and we would encourage anyone with a story about red squirrel conservation to contribute.
"Over time we hope it will build a record of our encounters with this beautiful and fascinating species, the efforts involved in their conservation in the UK and the issues faced both now and into the future."
Katy Cook from Red Squirrels Northern England added:
"There are literally thousands of people contributing to red squirrel conservation in northern England in a variety of ways, including awareness raising, education, fundraising, photography and grey squirrel control.

"Red Tales will provide a platform to capture the underlying reasons why so many people devote massive amounts of time to look after this threatened native mammal.
"It will provide a meaningful context to all the beautiful images that are sent to us on a daily basis. They say a picture tells a thousand words and now every photo taken of a red squirrel can be much more than just a pretty image, it can take its place in the bigger picture of conservation efforts and become part of the story. I think it's brilliant that we have a uniquely engaging tool to help people become a part of this complex conservation challenge."
Red Squirrels
The decline of the red squirrel species over recent decades has been dramatic, with current estimates suggesting only 138,000 red squirrels remain in the UK.
Red squirrel conservation is a subject that inspires a lot of different perspectives and opinions, particularly around sensitive issues such as squirrel pox and the relationship between red squirrels and grey squirrels and the hope is that this the new film will represent the full range of different perspectives.
A variety of interactive elements have been designed into the film to help users explore the documentary, engage with its content and build their own ideas around the subject.
For example, a dynamic map allows viewers to see which areas of the country the content comes from and an interactive "credits sequence" filters the content of individual contributors.
An introduction sequence uses dynamically-obtained content from the site to help introduce both the topic and the structure of the film for first-time-users.
Registered users are also invited to make 'collections' of the content to share with others via social media.
Research Context
David adds: "Increases in network speeds together with the rise in affordable and easy-to-use video tools means the realm of documentary-making is fundamentally changing – from a largely inaccessible and time-consuming process to one that is immediate and accessible to all.
"At Open Lab, through projects such as Red Tales, but also projects such as Bootlegger and App Movement, we are currently researching how new and emerging technologies can help shape the next generation of tools and production methods that will not only help other, undocumented stories connect with audiences, but support the communities who know them best to come together and tell the stories themselves."
The film was produced by researchers at Newcastle University's Open Lab research group and Northumbria and York universities in partnership with Red Squirrels Northern England, a conservation partnership working across Northern England, and Wildscreen, a Bristol-based charity promoting conservation through wildlife imagery.
The Creative Exchange is a four-year project led by Lancaster University, Newcastle University and the Royal College of Art, funded by the Arts and Humanities Research Council (AHRC).
published on: 17 June 2015