Newcastle University in the world's Top 100 for International Outlook
Published on: 14 January 2016
Newcastle University is one of the most international universities in the world, according to a new study.
The ranking, published today, 14 January, by Times Higher Education, is based on an 'international outlook' indicator of the World University Rankings, which measures the ability of a university to attract undergraduates, postgraduates and faculty from all over the world. Newcastle University is ranked 88th out of 800 universities from all over the world.
The study takes into account a range of criteria, including international-to-domestic-student ratio, international-to-domestic-staff ratio and international research collaborations.
Professor Richard Davies, Pro-Vice-Chancellor, Engagement and Internationalisation, Newcastle University, said: "Newcastle University has many collaborations with organisations from around the world: governments, businesses, other universities, and charitable organisations. These international collaborations enrich the quality of the research that we do and the education we provide.
"Our vision is to be a world-class civic university, which means we apply the excellence of our teaching and research to some of the huge challenges society faces locally and globally, and our international students, staff and partnerships are instrumental in helping us fulfil this ambition."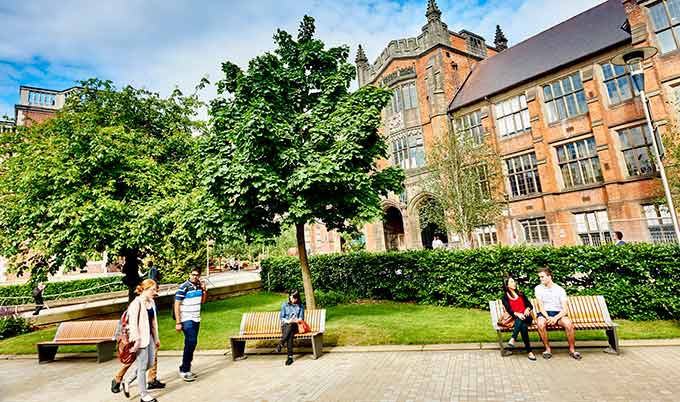 Outward-looking institutions
Phil Baty, Times Higher Education Rankings Editor, said: "An institution's global outlook is one of the key markers of a prestigious university. The top institutions hire faculty from all over the world, attract students from a global market of top talent and collaborate with leading departments wherever they happen to be based.
"It is great news for all the institutions in the list of the most international universities in the world. It is a sign of great potential, competitiveness and dynamism."
Newcastle University is a thriving global community, with almost 6,500 international students. That is more than 26% of the total student population, coming from over 120 countries worldwide. International staff at the University make up more than 19% of the total workforce.
Newcastle is the first UK University to establish a fully owned international branch campus for medicine at its NUMed Campus in Malaysia which opened in 2011. Newcastle University has developed degree programmes with the Singapore Institute of Technology (SIT), delivering degrees in engineering disciplines, marine and food and human nutrition. Last year, the 1000th graduate was among the students celebrating degree success at Newcastle University's graduation ceremony in Singapore.
---
Latest News