Newcastle University opens a new library building
Published on: 8 January 2016
Newcastle University is opening the doors of a new library building as students return for the new term.
Welcoming its first visitors on 11 January, the Marjorie Robinson Library Rooms will house a variety of digital learning spaces including over 550 study spaces, 220 desktop PCs and areas for group study. It will also offer loanable laptops which will provide easy access to the library's extensive online collections and Wi-Fi throughout the building.
Located adjacent to the Civic Centre on Sandyford Road, the Library Rooms were designed over two years of consultation with students and staff about what they need from a modern library building. The upper level of the library will provide a quiet study space, with 'living rooms' to help students to study in relaxed surroundings. The lower level has been designed to facilitate collaborative study and group projects, including a 'chatterbox' room for Skype calls and video conferencing.
Social learning space and a café are located on the ground floor, where library staff will be available to help students throughout the building's opening hours of 8.30am to midnight seven days a week during term time.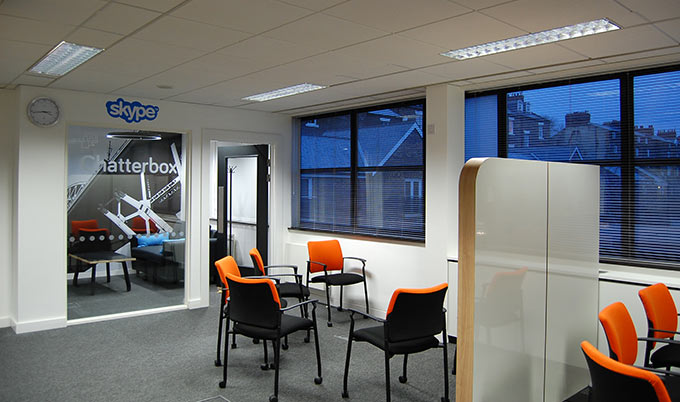 Meeting students' needs for new and innovative learning spaces
Wayne Connolly, Director of Academic Services and University Librarian, said: "The new library gives us an opportunity to sustain our high levels of service and to provide the study facilities that students have asked for.
"We have always put students' needs at the heart of everything we do, and the increase in the library's capacity will help us meet their demands for new and innovative learning spaces."
Marjorie Robinson was a benefactor to the Library and, after consultation with both staff and students, it was felt that naming the building the Marjorie Robinson Library Rooms was an ideal way to acknowledge her generous bequest. She was the wife of Philip Robinson, the Newcastle bookseller, after whom the University's Robinson Library was named in 1989.
Figures from the latest National Student Survey show that 93% of Newcastle University students were satisfied with the library resources and services.
---
Latest News