Live lunchtime music on offer
Published on: 1 February 2016
A diverse mix of musical genres is included in the new series of free lunchtime concerts presented by Newcastle University, which starts this week.
The new programme begins on Thursday 4 February, when Niall Brown (cello) and Isabelle Trüb (piano) perform Schubert's Arpeggione Sonata in A Minor D821 and Grieg's Sonata in A Minor, Op. 36.
Other highlights of the Spring schedule include the Rose Consort of Viols performing music from the Tudor and Stuart period, including works by Tallis, Byrd, Ferrabosco and Holborne.
A performance of John Cage's Sonatas and Interludes takes place on 10 March, and a varied programme of traditional and contemporary military music will be performed by The Band of the Royal Armoured Corps on 28 April.
Due to the refurbishment of the King's Hall on Newcastle University's campus, lunchtime concerts will again take place at Brunswick Methodist Church, just off Northumberland Street, in Newcastle city centre.
Professor Eric Cross, Dean of Cultural Affairs at Newcastle University, said: "The free lunchtime concerts series has a strong reputation for high quality performances across diverse genres.
"Our first season at Brunswick Methodist Church was well received, and I'm sure this latest programme will be just as popular."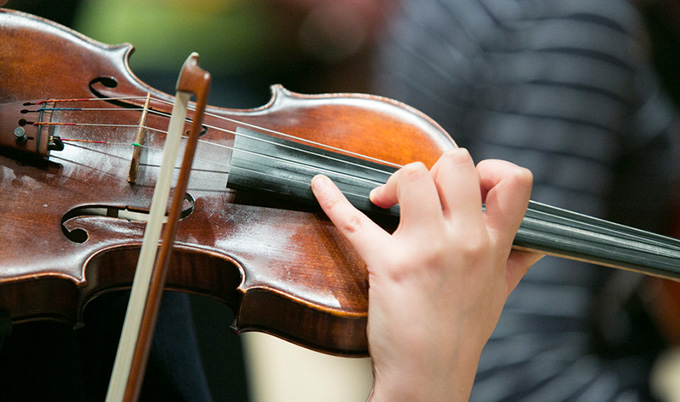 The Newcastle University Symphony Orchestra and Choir join forces with Newcastle upon Tyne Bach Choir in a performance of Walton's Belshazzar's Feast, as well as performing Vaughan Williams' The Lark Ascending, with soloist Edward Cross. The concert, in Sage One, Sage Gateshead on Saturday 12 March will be conducted by Professor Eric Cross.
Performances by current music students at Newcastle University continue to form part of the free concerts. These take place every week at 4.30pm in Spaces 4 and 5 in Culture Lab at Newcastle University.
Performances in Brunswick Methodist Church take place at 1.10pm. These, and all student performances, are free and open to the public.
Tickets for the Newcastle University Symphony Orchestra and Newcastle Bach Choir Concert on 12 March are available from Sage Gateshead Ticket Office on 0191 443 4661 or Sage Gateshead's website.
For more information about Newcastle University's lunchtime concerts and other events, visit www.ncl.ac.uk/events/kings-hall
---
Latest News