Newcastle University academic receives Damehood
Newcastle University academic receives Damehood
Published on: 3 February 2016
Professor Vicki Bruce has been made a Dame Commander of the British Empire at an investiture ceremony at Buckingham Palace.
The ceremony took place last week when Professor Bruce was awarded the honour by HRH the Prince of Wales for services to Higher Education and Psychology.
Professor Bruce, from Newcastle University's School of Psychology, is one of the world's leading experts in the field of human face perception and recognition, including eye-witness recall and the use of face images in forensic contexts. Her work has influenced the way that witnesses are interviewed and how evidence from CCTV images may be used by the courts.
Reflecting on the event, Professor Bruce said: "The ceremony was a grand occasion, immaculately orchestrated. Prince Charles seemed genuinely interested in my research area during our brief conversation.
"Sadly, I was the only woman in the most 'senior' order that day – that of Dames and Knights. Although there were more women amongst the other orders they were always in the minority so I hope this will change in the future."
Professor Bruce has done much to champion equality and was formerly Chair of the Newcastle University Diversity Committee. She also helped start NU-Women, Newcastle University's network for female staff.
In the past, she worked with the Royal Mint to help develop new coins that are easier for blind people to recognise and her work ensured that the one pound coin was made thicker so that it would not be confused with old-style five pence coins.
Professor Bruce, who lives in Stocksfield, Northumberland, added. "I grew up in Whitley Bay and went to school in Newcastle and it was great to come back home to the North East in 2008. So I was delighted, as well as honoured, to receive this award while working here at Newcastle University."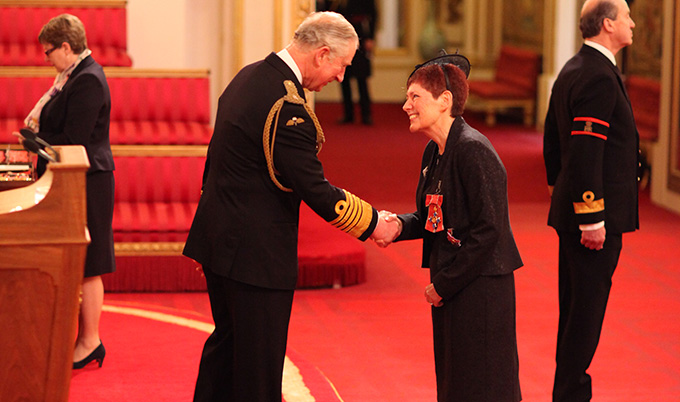 ---
Latest News